Britain: The Economy Is Frightfully Promising
by
Chancellor Kenneth Clarke appears to have the British economy right where he wants it. Heading into the general elections, which must be called by May, 1997, the economy is on the launching pad, ready for liftoff.
After last year's slowdown, nearly all sectors of demand are picking up, especially consumer spending. The jobless rate fell in August, to 7.5%, a 5 1/2-year low. Retail sales, car sales, mortgage commitments, and consumer confidence are all in an upswing, and the full impact of the Chancellor's four cuts in the base rate since December, from 6 3/4% to 5 3/4%, hasn't even hit the data yet.
Although demand shows momentum amid lower rates and tax cuts, factory output has stagnated as businesses run down their excess inventories. But that could be changing. In July, manufacturing production rose 0.5%, the largest monthly increase in a year (chart). Moreover, surveys of output expectations, by both the Confederation of British Industry and the nation's purchasing managers, have turned decidedly upbeat. If factory output is turning around, domestic economic growth should accelerate in the second half and into 1997, after growing at a meager 1.8% yearly pace through the second quarter.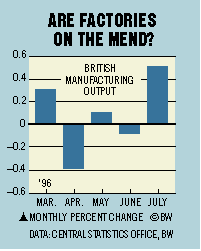 For now, at least, Britain can enjoy the prospect of solid growth and low prices. Annual inflation for goods at the factory gate fell further in August, to 1.9%, and input prices are still below their year-ago levels. These downward pressures, plus a firmer British pound since spring, will hold down retail inflation in coming months, giving the Chancellor a good shot at making the government's 2.5% target for underlying inflation, which excludes mortgage costs.
Against this backdrop, Clarke had no grounds to press for another rate cut at his Sept. 4 policy meeting with Bank of England Governor Eddie George, who is opposed to further cuts. So rates are likely on hold until the elections. Unless Clarke's "feel good" economy lifts the Tories' declining fortunes, the next rate move will be under a Labor government.
Before it's here, it's on the Bloomberg Terminal.
LEARN MORE