American Banknote Sees Green
by
For quite a while, skeptics had expected American Banknote (ABN) to go under, having been in the red for two years. Its stock had languished at around 11/2 a share--until June this year, when it suddenly came alive, rising above 4. The stock has since dropped to 33/4. No matter. Some investors have been buying: They're betting the stock will double in 6 to 12 months.
There are two reasons for optimism. First, says a San Francisco money manager, is expectation that Banknote, which makes antifraud and anticounterfeit products, will earn a profit this year. The second: Banknote is expected to sign a sales contract with a consortium of Japanese companies.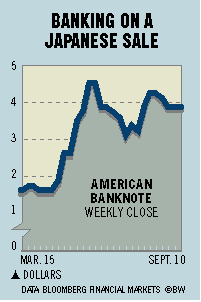 Banknote leads in holographic devices for credit cards. Japan wants its technology for cards used in Pachinko, a popular pinball-type game in Japan. Chairman Morris Weissman won't say whether a contract is imminent. If a deal comes through, though, he says the prospects will be tremendous. He notes that there are 18,000 Pachinko parlors in Japan. Winners are rewarded with a "win card." Weissman says that "about 100 million to 200 million win cards are issued each year." He says the technology is being tested by Japanese banks and brokerages.
The company expects a large contract from an Australian agency that could bring in revenues of $20 million to $30 million initially. The San Francisco money manager figures the company will make 25 cents a share this year and 40 cents to 50 cents next year.
Before it's here, it's on the Bloomberg Terminal.
LEARN MORE