A Wholesaler's Warehouse Full Of Woes
A restructuring fails to turn Fleming Cos. around
Wendy Zellner
It was a rare bit of good news for Robert E. Stauth, chief executive of grocery wholesaler Fleming Cos. In June, three months after Fleming was fined $211 million in a fraud and deceptive practices suit filed by former customer David's Supermarkets Inc., the decision was thrown out. A new trial was ordered when it was discovered that the judge once had financial ties to David's founder.
Yet Stauth, 51, will need more glad tidings than that in the months to come. With the independent supermarkets it supplies under attack from the likes of Wal-Mart Stores Inc. supercenters, Oklahoma City-based Fleming has spent almost two years changing the way it prices and delivers its wares. But despite the ambitious restructuring, Stauth's troubles appear far from over. Earnings and sales have skidded. And with critics complaining that he moved too far, too fast, Stauth has been forced to slow his program halfway through.
NOSEDIVE. Clearly, it has been a rough period for the nation's largest grocery wholesaler. Although its $1 billion acquisition of rival Scrivner Inc. sent sales up 11% last year, to $17.5 billion, Fleming's earnings, excluding one-time events, tumbled 33%, to $37.6 million. And in 1996's first half, profits nosedived an additional 55% on sales that were off 6%. Still, analyst Wayne J.D. Teetsel of BDS Securities sees the start of a turnaround. Excluding one-time charges, he thinks earnings will hit $50.8 million this year, on $16.6 billion in sales. But investors seem wary. The shares now trade at around 17, down from a high of about 29 a year ago. "This reengineering is strictly defensive," warns analyst Gary Giblen of Smith Barney Inc. "It's a mountain of investment to prevent a sinking of the ship."
Despite the problems he faces on all sides, Stauth brims with confidence. "We are absolutely on the right track," he says. Of course, standing still was no option. Fleming increasingly caters to a dying breed, the nation's small independent grocers. Effectively a middleman between shopkeepers too small to run their own warehouses and giant manufacturers who prefer to deal directly with big buyers, Fleming stocks and sells everything from shampoo to soda pop.
But with its customers facing a competitive onslaught from big chains such as Kroger Co. and Wal-Mart, the entire $200 billion grocery wholesale business is under intense pressure to deliver cheaper products. At the same time, manufacturers such as Procter & Gamble Co. are also changing the rules. Wholesalers such as Fleming traditionally made much of their money by pocketing manufacturers' discounts and promotional money rather than passing them on to retailers. Fleming, like others, simply charged its customers a flat percentage markup over list prices. But as P&G and other manufacturers increasingly shift to "everyday low pricing," they're cutting back on costly promotional spending. That has cut wholesalers' meager margins. "It doesn't take a rocket scientist to figure out that this industry has to change the way it goes to market," says Victor J. Orler, a partner at Andersen Consulting.
That's exactly what Stauth is trying to do. Back in early 1995, Fleming began to pass along all promotional money to retailers. To make up lost profits, it introduced a new pricing system in which it's trying to charge the true cost of handling, transportation, and storing goods.
CONFUSION. In theory, that should make for more efficient transactions. And some have adapted. By learning to order full truckloads, for example, Ron Brake, co-owner of Portland Food 4 Less in Oregon, says his gross margin is up from 10% to 14%. "You know exactly what you're paying," he says. "There's no hidden agenda."
Yet others argue that Fleming has stumbled badly. Several executives close to the company say Stauth didn't get enough input from customers before abruptly making changes. One big problem: When Fleming eliminated 17 division presidents running its regional warehouses, longstanding customer ties were hurt. Admits E. Stephen Davis, executive vice-president for operations: "That caused more confusion."
One confused customer is Steve Fleming, son of an ex-chairman of Fleming and owner of two San Antonio grocery stores. He complains that the new pricing system, based on dozens of variables such as the amount of time goods are stored, is too complex. Costs have increased, he says: "The program is a nightmare."
Stauth's critics also fear the company lacks the managerial firepower to pull off a transformation. Fleming's president and CEO since 1993, Stauth has spent most of his 30-year career at the company. Although he has recruited outsiders for 5 of the top 10 jobs--including President William J. Dowd, a veteran of Kraft Foods Inc.--one vendor complains that "he kept too many of the old guard" lower in the ranks. Nor has the David's suit helped. The former Texas customer sued Fleming in 1993, accusing Fleming of driving it to the brink of bankruptcy by systematically overcharging. Stauth admits the accusations have scared off new customers.
SLOW GOING. In the meantime, Fleming's biggest rival, Supervalu Inc., is pressing its advantage. It, too, is making changes, but CEO Michael W. Wright is going slow. Supervalu tested a new pricing structure with 100 stores around Denver first and will now roll it out across the Midwest. "We want to make sure [retailers] are comfortable," he says.
With problems piling up, Stauth has slowed his makeover midstream. After introducing the new pricing and reorganizing management at 17 regional warehouses, Stauth has hit the brakes on Fleming's other 16. He says it will be no later than the end of 1999 before the entire company moves to the new structure.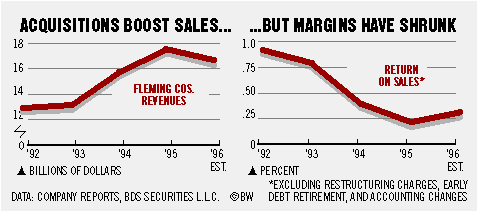 That's a long way off--and Wall Street appears to be tired of waiting. "I think they can pull it off, but it's a question as to the timing and the expense," warns Ronald J. Buck, a debt analyst with Standard & Poor's. Still, the ever-sunny Stauth insists the moves will soon translate to the bottom line. His long-term goal: at least a 1% return on sales, which Fleming last approached in 1992. "We're ahead in paying down debt," he says, "and we have half the company reengineered. I don't think we have to be apologetic." Maybe not. But the time for accolades has not yet arrived, either.
Before it's here, it's on the Bloomberg Terminal.
LEARN MORE