U.S.: The Economy's Heat Is Setting Off Alarm Bells
With jobs and incomes on the rise, consumers keep stoking the fire
By
Is the economy too strong for its own good? It's starting to look that way. After coming out of a soft patch around the turn of the year, growth soared to 4.8% in the second quarter. And after some tamer-looking July data, momentum now appears to be building again. All this is sounding alarm bells at the Federal Reserve over fears that a rambunctious economy will increase the pressure on wages and prices.
Signs of the economy's unruly behavior are mounting. Not only has second-quarter growth in real gross domestic product been revised up from 4.2% to 4.8%, but the mix of GDP growth now looks more favorable for continued vigor in the second half. Strong demand has cut inventories, sparking gains in manufacturing.
Perhaps most noteworthy, however, is the failure of the economy's interest-sensitive sectors to succumb to this year's sharp increase in long-term interest rates.
Indeed, the rallying cry of today's consumers seems to be "Gimme shelter": Home buying remains resilient despite higher mortgage rates (chart). In addition, car sales--another rate-sensitive sector--have rebounded. And orders for capital goods are rising strongly. Moreover, the Conference Board's index of leading indicators, those that foreshadow the economy's path, rose in July for the sixth month in a row.
The Fed's task between now and its policy meeting on Sept. 24 is to decide whether the economy is going to correct its unruly behavior on its own or whether it needs a slap on the wrist in the form of higher interest rates. With the Presidential election looming and with growing division within the Fed over the need for a rate hike, the decision will be one of the toughest in some time.
THE REVISED GDP NUMBERS say a lot about why the economy is not settling down the way the Fed would like. The Commerce Dept. said that final sales of goods and services to consumers, businesses, government, and foreigners grew a heady 4.3% last quarter, instead of the 3.5% originally reported. Capital spending led the revision: Equipment outlays now show a 6% advance, nearly twice the first-reported rise of 3.2%.
At the same time, inventories grew even more slowly than originally estimated. In fact, excluding the strike-related drop in car inventories in the first quarter, second-quarter stock levels rose at the slowest pace in 3 1/2 years.
As a result, the combination of lean inventories and strong demand is fueling orders and output in the industrial sector. Manufacturing orders rose a strong 1.8% in July, and they were 2.1% above the second-quarter average. Factory orders have been accelerating since earlier this year, and they are on track to post the strongest quarterly gain since late 1994.
The industrial sector continued to advance in August, according to the nation's purchasing managers. Their composite index of production, orders, employment, inventories, and delivery speed rose to 52.6% last month, a rebound from July's 50.2% reading but not up to June's 54.3% level (chart). Production strength led the August gain, although all components contributed to the advance.
In response to a special question in last month's survey, an increasing percentage of purchasers felt that inventories were too low. Indeed, factory stock levels have risen only 0.9% so far this year, while shipments have grown 6.6%. Consequently, the ratio of factory inventories to sales dipped to 1.39 in July, matching the record low. With consumer and capital spending on solid ground, many businesses will have to beef up their inventories, if only to avoid losing sales. So further gains in output in the second half seem assured.
HOUSING-RELATED INDUSTRIES also appear ready to make additional gains this half. Home buying has shrugged off the higher interest rates, and housing demand has spilled over to spending on everything from washers to wallpaper. As long as incomes and jobs advance, consumer spending is unlikely to falter.
Sales of new single-family houses took a surprising jump in July, rising 7.9% to an annual rate of 783,000, the third-highest monthly figure in the current expansion. Home buying increased everywhere except the Northeast, where sales were nearly flat after surging 30.4% in June. The gain came in spite of a rise in the 30-year fixed-mortgage rate, to 8.5%, in July, up from as low as 7.2% in January.
But other factors explain housing's resilience. First, despite the recent rise, mortgage rates are far from unattractive. Also, the rate rise so far this year has added only $90 to the monthly payment on a $100,000 loan. And consumers are switching to lower adjustable rates. In July, 36% of new mortgages carried adjustable rates, up from 23% a year earlier.
PERHAPS MORE IMPORTANT, income growth remains solid. Personal income edged up just 0.1% in July, but that followed a gain of 0.9% in June. Real disposable income began the third quarter at an annual rate of 3.3% above its second-quarter average.
Real consumer spending was flat in July, after falling 0.4% in June. But decreased buying of motor vehicles caused most of the sluggishness. Thanks to rebates, sales of cars and light trucks popped up in August, suggesting better retail activity overall.
For most of the past year, real incomes have grown faster than real consumer spending (chart). The gap has helped to nudge up the savings rate, while also ensuring that households have cash to spend.
Households have already boosted their purchases of home-related items--which account for nearly as much of the economy as does homebuilding. Real outlays for all home durable goods--from furniture to draperies to appliances--are up 10.4% from a year ago. A big seller, not surprisingly, is home computers. The Commerce Dept. reports consumer purchases of computers in July increased 76.7% from a year ago.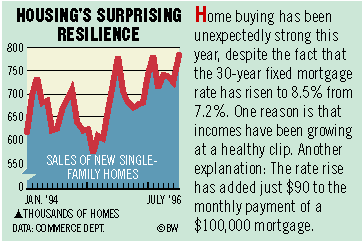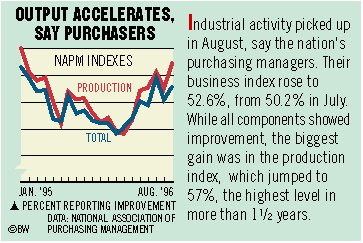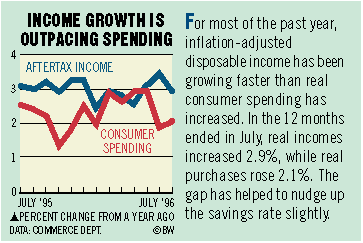 Looking ahead, spending should stay vibrant because consumers are pretty upbeat about their future paychecks. In its August report on consumer confidence, the Conference Board reported that 23.8% of consumers expect their incomes to increase over the next six months, up from 21% in June. The only brake on consumers could be the slowdown in loans. The Fed has reported that banks are tightening their lending standards for personal loans, especially credit cards.
But as long as job growth stays strong, consumers will feel secure about a steady paycheck and will increase spending. That, in turn, will keep factories humming--and in need of more workers. Clearly, economic players from the White House to households to manufacturers will welcome this virtuous cycle. But it remains to be seen how quickly and forcefully the Fed will move to ensure that virtue doesn't turn to vice.