Supermarts Invade Moscow's Suburbs...And So Does A Gang Of New Capitalists
By
There's something new around Moscow that for the longest time was merely a matter of rumor: disposable income. It takes tangible shape at the Perekriostok supermarket. Outside is a classic post-Soviet landscape of crumbling apartment blocks and weed-choked vacant lots. But step inside, grab a shopping cart, and stroll down aisles stocked with everything from cabbages to throwaway diapers. The scent of fresh bread wafts from an in-store bakery, and a butcher carves up a side of beef in the gleaming white-tiled meat department.
When the store opened last fall in the northwestern suburb of Mitino, a huge crowd turned out. And no wonder. Moscow's retail trade is concentrated in the city's center, even though most of Moscow's 9 million residents live in outlying communities such as Mitino. For suburbanites, grocery shopping is a scavenger hunt at neighborhood kiosks, outdoor markets, and poorly supplied Soviet-style food shops, the infamous gastronoms.
Executives at Perekriostok think they have found a niche in this retail wasteland. The company, part of the Alfa Group consortium headed by Moscow's Alfa-Bank, has opened three suburban supermarkets in Moscow in the past year and expects to have 20 operating by the end of 1997. "Nobody else is doing what we are doing," said Perekriostok General Director Alexander Kosanienko, an animated 32-year-old whose conversations are punctuated by the ringing of his cellular phone. "We are a supermarket for average Russians."
Western-style supermarkets are no longer a novelty in central Moscow. But they usually stock imported goods and cater to upper-income customers. Perekriostok has pledged that 50% of its stock will be Russian-produced--not an easy promise to keep, given the country's unreliable wholesaling system--and that prices will stay low. It has kept startup costs down by moving into abandoned retail space on the ground floor of apartment buildings--space that might typically have been reserved for the ghastly gastronoms. So far, supermarket customers seem delighted. "It's very convenient, and the prices are good," said Sergei Bogodurov, a shopper at the Mitino store. "Before, there weren't many stores in the area," his wife, Julia, chimed in.
Major retailers have been surprisingly slow to target the country's small but growing suburban middle class, business experts say. Perekriostok turned to Western consultants to develop its market strategy, and company executives spent weeks on the road studying supermarkets in Western Europe and the U.S. But they've also taken advice offered closer to home: At shoppers' request, playground equipment was installed outside two of the supermarkets, and a children's clothing and toy department was opened at one store. Such touches indicate that Perekriostok may be covering its back. "There are tremendous opportunities for others to do what Perekriostok is doing," said a consultant who has studied the company.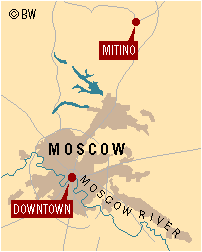 It's a familiar story in Western cities: Affluent professionals move into gentrified downtown neighborhoods. Longtime residents move out. But in Moscow, there's a new twist. As state-owned apartments are privatized, owners of units in the center of town have found they are sitting on gold mines. A renovated two-bedroom apartment in a prestigious central neighborhood can command $3,000 a month or more. Owners can rent out their units, move into an apartment of comparable size in the suburbs for only a fraction of the rent, and pocket the difference. "This is something we see all the time," says Alexei Kistnyov, a manager at Penny Lane Real Estate, a Moscow company catering to expatriates and wealthy Russians eager to live in the city center.
No one knows how many Muscovites are supplementing their incomes this way, since such transactions are seldom reported to tax authorities. But studies show that household mobility in Moscow has more than doubled over the past three years. There are few if any split-levels or backyard barbecues in the Moscow suburbs; high-rise living is still the norm. But increasingly, there are consumers with money in their pockets, and that is what Perekriostok is counting on.