business
Penney's May Gulp Down Genovese
Genovese Drug Stores (GDXA) has caught the eye of sharp investors, after years of neglect by the Street. Class A shares of the discount chain, whose 121 stores are mainly in New York, have been rising all summer and stand at 12 1/4, up from 8 3/8 in late June.
What's cooking at Genovese? Well, on Aug. 28 it reported record second-quarter earnings of 16 cents a share, up 33% from the similar quarter of 1995. But the real reason for the run-up is talk that Genovese will be the next buyout in this consolidating industry.
Betting big on that premise is Mike Kicera of MRK Capital Management, a New York investment firm. Kicera says that Genovese shares are worth 18 to 22 in a takeover, based on the valuation used in recent drugstore buyouts.
Kicera has been an astute player in drugstore stocks. In the Jan. 8 Inside Wall Street column, Kicera predicted that Fay's, a 272-store drug chain, was ripe for a takeover. In July, retailer J.C. Penney agreed to purchase Fay's for $285 million in stock.
Penney's is a likely buyer for Genovese, too, says Kicera. Penney's already owns $1.9 billion Thrift Drug Stores--just 9% of Penney's sales. Kicera believes that, after completing the Fay's acquisition, Penney's will go after Genovese, whose stores are in the midst of the East Coast markets served by Thrift Drug and Fay's.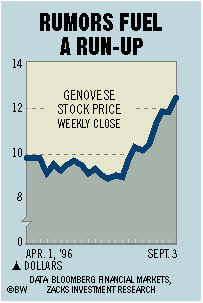 "Genovese will be a logical fit for Thrift not only because of the location factor but also because of its similarities to Fay's," says Kicera. He notes that before it was acquired, Fay's sold off non-drugstore assets to make the company a pure play in the drugstore business. Similarly, Genovese recently sold its non-drugstore operations. And like Fay's, Genovese is controlled by the founding family, which owns about 60% of the stock. "That will make it easier to do a friendly deal," notes Kicera. Spokesmen for both Genovese and Penney's declined comment.
Of course, any deal will come under antitrust scrutiny. In July, for instance, Rite Aid aborted its $1.8 billion acquisition of Revco after authorities questioned the deal on antitrust grounds. Kicera doesn't think a Penney acquisition of Genovese will have such difficulties, since the combined companies would not dominate their markets.
BY GENE G. MARCIAL
Before it's here, it's on the Bloomberg Terminal.
LEARN MORE