Finally, Ignition For Jetmakers
Commercial jetmakers aren't flying on fumes anymore
Tim Smart
In recent years, attendees at Britain's biennial Farnborough Air Show, a premier aviation industry powwow, had little to cheer them but the fine wine served in the corporate hospitality chalets or the occasional flyover of a new military aircraft.
At this year's meeting, though, aviation executives are flying high themselves. After five years of belt-tightening and canceled orders, aircraft makers are seeing a surge in demand. At Farnborough alone, a dozen big deals were announced from Sept. 2 to Sept. 4, including a hefty $7.5 billion in new orders for Boeing Co., mostly from international carriers and leasing companies.
LEGS, TOO. Times are once again flush for the companies that bend metal into flying machines. Boeing is hiring 1,000 new workers a month as it ramps up production of its popular new jet, the 777. Airbus Industrie, based in Toulouse, France, on Sept. 3 announced orders worth $2.4 billion, including a $1.1 billion order from Federal Express Corp. for 11 A300 cargo planes. That follows a $900 million order from United Air Lines Inc. in August. Even St. Louis-based McDonnell Douglas Corp., which has been slow to win new orders, unveiled $710 million in orders from Trans World Airlines Inc. and international customers. "The cycle has really turned up," says Edmund S. Greenslet, publisher of industry newsletter The Airline Monitor. He figures aircraft orders for the first half of this year jumped 49% above those of a year ago.
What's behind the turnaround? The biggest reason is that the commercial airlines are once again making money. After years of record losses at the major carriers, combined profits for the U.S. airline industry should reach $3 billion this year, up from $2.4 billion in 1995, says the Air Transport Assn., a trade group. That's quite a turnaround from 1992, when the industry lost $4.8 billion.
This boom looks to have legs, too. Load factors, the critical measure of how full aircraft are, have inched up all year and now stand at a healthy 74%. And many carriers, such as USAir, have fleets that are aging and must be replaced as federal noise standards take effect at the end of the decade. "Airlines are out of capacity," says Nicholas P. Heymann, a NatWest Securities analyst. "We've seen hardly the tip of the iceberg for orders."
Take United. Although its 567-plane fleet is relatively young, the company believes that replacing older planes with more fuel-efficient models makes sense. The carrier placed a $3.5 billion order in August with Boeing for 27 new widebodies. "The introduction of additional new planes will give us even higher aircraft reliability and lower costs," says United President John Edwardson, who estimates that the airline will save $100 million by the end of the decade as it switches to new planes.
American Airlines Inc., long out of the market for new aircraft because of labor troubles, is expected to soon place an order for Boeing 777s if its pilots ratify a new contract. And Delta has spent the summer kicking the tires of the Boeing 777 and competitive offerings from Airbus as it contemplates replacing its fleet of 52 aging L-1011s.
Despite the flood of new orders, competition between the Big Three makers is still ferocious. To try to get a jump on rivals, manufacturers are tightening production cycles to cut the time between order and delivery. Boeing has trimmed the manufacturing period for 747s to 10.5 months from 18 months a few years ago. And heavy discounting remains the norm, says Continental Airlines Chief Operating Officer Gregory D. Brenneman.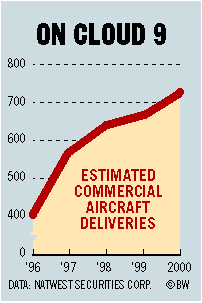 LONGER NONSTOPS. Analysts expect the deliveries of new planes to crest around the mid-700 range by 2000 (chart). That would still be below the peak years of the late 1980s, but those estimates may well be overly conservative. The red-hot Asian market shows little sign of cooling. And larger planes being planned by Airbus and Boeing may spur even more demand as the new aircraft make nonstop flights to more-distant locations possible.
Indeed, as airports become increasingly crowded and routes more congested, many industry experts expect ever-growing demand for jumbo jets. Boeing forecasts demand for 500-plus passenger aircraft to be nearly 500 planes, while Airbus projects twice that amount. No matter which estimate is right, the sharp uptick in orders suggests aircraft makers will be flying in blue skies for quite some time.