Prosperity Depends On Geopolitics...And Two Fabled Rivers
John Doxey
The bubble burst six years ago for the Mediterranean port of Iskenderun, when the U.N. slapped a trade embargo on Iraq for invading Kuwait. The sanctions came "like a kick in the stomach" to Turkey's closest major port to Iraq, says shipping agent Turgay Vural. During the 1980s, when the harbor bustled with outgoing tankers and incoming freighters carrying Iraq-bound cargoes, trade with Baghdad pumped an estimated $450 million per year into the local economy. This has shrunk to about $15 million--because of limits on necessities that Turkey can sell to Iraq. "We haven't had sweet days around here for a long time," says Vural.
But they could be coming back, thanks to an "oil-for-food" pact approved by the U.N. Security Council in May. It will allow Baghdad to sell up to $2 billion worth of crude oil every six months. Iraq must use these proceeds to buy food, medicine, and other humanitarian supplies. After the oil sales begin--probably this fall--Iraq will purchase about $850 million worth of food and $210 million worth of medicine every six months, according to a U.N.-approved plan. Many of the goods would be unloaded at Iskenderun or nearby Mersin after arriving from foreign countries and other parts of Turkey. Before the embargo, about 1,000 trucks left Iskenderun for Iraq every day.
Some local businesspeople question Iskenderun's chances of again becoming a transit hub. "Everything in Iraq depends on Saddam [Hussein], and he could easily choose other trading partners to get back at Turkey" for assisting U.S.-led forces during the Persian Gulf War by providing air facilities, says Edip Zelluh, head of Interkarbon Industry & Trading. Some also doubt that Iskenderun will regain its near-monopoly in trade with Iraq: With the fighting in Lebanon over and the Persian Gulf cleared of mines, Turkish harbors may have to compete with Beirut and Iraq's own gulf ports.
But at least the near future looks bright. Under its deal with the U.N., Iraq is expected to pump about half of the 700,000 barrels of crude oil it will export daily through a pipeline that runs from northern Iraq to a Turkish terminal outside Iskenderun. Most of the oil will be shipped to Western markets, but Turkey will also buy some. Shipping agents, port operators, and trucking companies should pocket millions of dollars a year in handling fees. And some of that should trickle down to hundreds of other businesses, including hotels, gas stations, restaurants, and builders. "We're expecting a boom in sales," says Meric Ozkaya, manager of the largest furniture store in this city of 150,000. Since May, his sales have nearly reached pre-embargo levels as dozens of oil and transportation companies reopened offices in town.
The embargo hasn't been all bad. It forced Iskenderun traders to focus on iron, steel, coal, textiles, and vegetable oils. "If there has been a silver lining to the embargo, it's the increased willingness of the business community to explore new sectors," says Vural. But trade in these products contributed just $100 million-$150 million to Iskenderun's economy last year. Real prosperity won't return, Vural and other shippers say, until the U.N. allows unrestricted trade with Iraq. "Iskenderun's harbor will only be full again when that happens."
The business community has more control over its future in Sanliurfa, about 350 kilometers east of Iskenderun. It lies at the northern end of the arid Harran Plain, the first tract of farmland to receive irrigation waters from the Southeast Anatolia Project (GAP). When completed, probably around 2010, GAP's 22 dams and 19 hydroelectric plants on the Tigris and Euphrates through a system of tunnels and canals will bring water to more than 1.8 million hectares of farmland.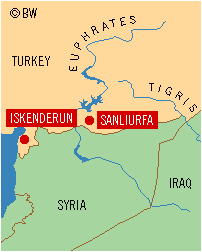 The $36 billion government project has brought Sanliurfa its first taste of prosperity since Biblical times, when it was Abraham's early home. Since April, 1995, when water from the Euphrates started flowing toward Harran from the Ataturk Dam, cotton and the manufacturing of textiles have become growth agents.
For Huseyin Algin, who owns a 14-hectare field, GAP has been a godsend. Until water flowed into the canal outside his farmhouse, Algin used a well to raise fruits and vegetables to feed his two wives and six kids. Irrigation helped him produce 47 tons of cotton in 1995, he says. Algin used the proceeds from a textile plant to buy a tractor and a used Renault. "This year, I might buy a Mercedes," he says.
Before it's here, it's on the Bloomberg Terminal.
LEARN MORE