Palm Computing Has A Rocket In Its Pocket
It can't produce Pilot, its $299 PDA, fast enough
Joan O'C. Hamilton
In a back-row cubicle at Palm Computing's offices in Los Altos, Calif., sits a pile of calculators on hormones known as "personal digital assistants." Virtually all have been disappointments; most, downright flops. Palm employees dismiss them as "tweeners"--too large to carry easily, too small to be really useful. Some have keyboards a child's fingers would barely fit. Most are loaded with features that make them heavy, slow, and complicated to use. As he hoists one 19-ounce PDA, Apple Computer Inc.'s Newton, Palm marketing chief Edward Colligan ponders: "Fax from the beach? Who'd want to?"
If Colligan seems a little cocky, he has good reason. In his shirt pocket is Palm's alternative: a sleek, 5.7-ounce gizmo called the Pilot that's just slightly wider and longer than a pack of cards, but even thinner. Unlike some other PDAs, it won't send faxes, collect E-mail, or track expenses. What it will do is keep you organized. Set the Pilot into a special cradle attached to your personal computer, press one button, and the two devices exchange updates of their data--phone numbers, addresses, appointments. That easy synchronicity is one thing that distinguishes the Pilot from other PDAs as well as from organizers such as Sharp Corp.'s popular Wizard.
Since the Pilot was introduced in April, retailers can barely keep the $299 device in stock, and it has won raves from reviewers. Palm's parent, Skokie (Ill.)-based U.S. Robotics Corp., won't break out sales numbers, but Palm says the Pilot's manufacturing schedules have been increased four times in the past two months, and retailers say customers are wowed by the Pilot's size. "It's the first handheld that ever answered the major questions of form factor [size] and price," says Dataquest Inc. analyst Mike McGuire. "It's a beachhead in a new market."
A flash in the pan? Could be. But buyers' instant attraction to the Pilot in such a crowded and tricky market seems testimony to several good, old-fashioned product development notions: Less can be more. Listen to customers. Sell solutions, not technology.
In May of 1994, PDA veteran Jeffrey Hawkins plunked himself down to "bitch about the business" with venture capitalist Bruce Dunlevie, now of Benchmark Capital in Menlo Park, Calif. Hawkins, now Palm's chief technology officer, was CEO at the time, before the U.S. Robotics acquisition. He had also helped develop one of the earliest PDAs, the Gridpad. More recently, Palm had done software for Tandy Corp.'s and Casio Computer Co.'s joint Zoomer entry and several others.
CASH HOARD. Under Hawkins, Palm had developed one of the few elements gf these devices that people liked: a handwriting interface called Graffiti. By asking users to standardize their use of letter and number symbols, Graffiti improved the gadget's recognition powers dramatically. Players such as Hewlett-Packard Co. licensed it for their devices, too. Unfortunately, "we were selling add-ons for a zero-billion-dollar market," says Hawkins. Dunlevie, a Palm board member, urged Hawkins to try building something better.
Palm had $3 million in the bank, some Graffiti royalties coming in, and, now, a mission. Hawkins and his team of two dozen programmers and marketers assembled a focus group of users from outside Silicon Valley and were quickly convinced that the techno-macho boasts of engineers--"Hey, I get paged 50 times a day!"--were irrelevant to most potential PDA customers.
Palm pinpointed its customer as a traveling businessperson with a personal computer and identified its own product as a "PC accessory." The team worked to shrink the hardware, strip the software to the most valuable elements, reduce battery drain, and keep the price below $300.
Next, the team set some nonnegotiable design goals: The product had to fit in a shirt pocket. (It does, though it's a bit of a load.) It had to perform instantly--not just faster than PDAs, but faster than pen and paper. It had to synchronize its calendar and database seamlessly with a desktop computer, requiring just one button push. And it had to be useful out of the box--no extra software to buy, no cards to install.
Executing the vision meant assembling a team of half a dozen companies working in parallel. Palo Alto Design Group provided the product's "skin" and some critical mechanical engineering, such as the nifty desk cradle for synchronizing the Pilot with the home-base PC. The Pilot's curved bottom fits snugly with a plug in the cradle, so there's no need for cables between them. To stay true to the design goals, "there were many battles of millimeters and half-millimeters," says Malcolm S. Smith, a vice-president at the design group.
Palo Alto Design engineers also designed the Pilot for simple manufacturing. Organizers from Casio or Sharp use between 8 and 15 screws of different sizes. The Pilot has just three, limiting part cost and complexity. Plus, it's built with "single-axis assembly," meaning it doesn't need to be turned over or picked up on the assembly line, decreasing production time and flubs.
On the software side, meanwhile, Palm worked with Alameda (Calif.)-based Geoworks in developing a simple yet flexible operating system. Palm inked deals to create links to popular personal-information PC programs such as Schedule Plus and Now Contact.
There were glitches. Palm took a risk by basing the Pilot's design on the not-quite-finished Motorola M68328 DragonBall microprocessor, aimed at small devices. "They were late, and we were actually debugging some of it" while trying to finish up design and production, says Hawkins. And Palm is still trying to persuade some partners to drop the price on "linking" software that allows the Pilot to communicate with industry-standard programs. Some of those links can cost more than the original PC programs.
BOOMING. By late last summer, eight months from launch, Palm was running out of money. Some players who had sniffed at the notion of another PDA had heard the buzz and came knocking. "But the only people who really wanted us to be a big company and execute was U.S. Robotics," says Hawkins.
U.S. Robotics, the booming modem maker, purchased all of Palm (just 30 employees) in August, 1995, for $44 million. Its chairman and CEO, Casey G. Cowell, says he was enchanted by the Pilot from the start: "Every so often, you see something that you just think is art. They really got it right."
Today, Palm's marketing goal is to make the Pilot the standard for corporations trying to keep traveling employees' schedules and databases in sync. The next obvious step is giving the device communications capability. But there's no room for a built-in modem. Instead, Robotics' Cowell says that by the end of this year, Palm Computing will offer an attachable telephone modem. A wireless version is planned for sometime later. Someday, Cowell says, U.S. Robotics hopes to make telephones with slots for the Pilot. Touch a name on the Pilot's screen, and the phone would dial the person's number.
The plan is to keep the Pilot small, light, and cheap while judiciously adding features. That's the opposite of Apple's approach with the Newton, which started out big and feature-heavy. Palm was "really smart to step back," says Robert Brunner, former head of design at Apple and now head of San Francisco's Pentigram Design.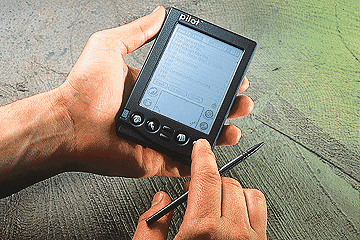 Several PDA makers say the Pilot is too limited, incapable of things such as Web browsing that other PDAs can handle. "It's certainly stirred up interest, but it's not the be-all and end-all," says Roy Breslawski, product marketing manager for Hewlett-Packard's handheld products division, which handles the Omnigo PDA. "It's just an organizer. If you want to do anything else, you're going to end up being frustrated."
So far, however, it has been the makers of the full-featured but fuzzily focused devices who have been frustrated. Last year, just 1.2 million PDAs were sold worldwide, says Dataquest's McGuire. If the Pilot keeps its momentum, Palm's gutsy decision to do just a few essential things could turn it into the PDA market's first blockbuster.
Before it's here, it's on the Bloomberg Terminal.
LEARN MORE