Kim Vs. The Chaebol: Unfinished Business
The President sends the conglomerates a message
Catherine Keumhyun Lee
It was a surreal moment for a nation long managed by military strongmen and industrial tycoons. On Aug. 26, former President Chun Doo Hwan received a death sentence and his successor, Roh Tae Woo, a 22-year-minimum jail term, for their roles in a 1979 military coup and the 1980 massacre of pro-democracy demonstrators in Kwangju. The heads of eight chaebol, or conglomerates, were meted out prison terms for bribing Roh. Four of their sentences were suspended, but four others, including one for Daewoo Chairman Kim Woo Choong, were not.
The sentences marked another clear break with South Korea's authoritarian past. Now, the issue is how the ending of the bribery scandal will affect President Kim Young Sam's drive to restore much needed dynamism to the economy through a mix of financial reforms, lower trade barriers, and curtailed dominance of the nation's mighty industrial combines. The challenge is to modify the country's very economic structure.
DOUBLE TROUBLE. The reason for a sense of urgency is that Korea's economy is suffering from both cyclical shocks and structural problems. The Korea Composite Stock Price Index fell 1.9% on the news of the sentencings and is trading at a three-year low. A weaker yen has undercut the Koreans' pricing edge in key markets, and exports have slowed, partly because of a downturn in world markets for semiconductors (charts). To remain competitive, Seoul has allowed the Korean won to weaken from 775 to the dollar in January to 818 in late August. That hit corporate profits, which were off 41% in the first half. The betting is that economic growth will fall to 7% this year from 9% in 1995.
That's still an enviable growth by Western standards. What worries Seoul analysts, though, are signs that Korea's export-driven and heavily regulated economy shows the sort of deep-rooted structural problems now confronting Japan. Fixing them will require at least tacit cooperation from the chaebol. If Korea is to escape from a trap in which cheap-labor Asian rivals undercut its products and Japan dominates the top end of the technology food chain, the chaebol will have to lead the way.
That's why the two-year sentence handed out to Daewoo's Kim and other prison terms for the chieftains of the Dong Ah, Hanbo, and Jinro groups added to the economic anxiety. "What happened to the two former presidents was nothing special. It was expected," says John S. Bai, a senior vice-president at ING Baring Securities Inc. in New York. "But the chaebol heads getting jail terms was something investors didn't expect."
Much will turn on how well President Kim, who assumed power in 1993 as the country's first truly civilian leader, can maintain a delicate balancing act. If his government is perceived as going soft on the chaebol bosses, such as Daewoo's Kim and others, it would send a positive signal to investors but would be politically unpopular among Korean voters.
So the President is likely to use the sentences to maintain the appearance of disciplining the chaebol while not damaging their vitality. The four chairmen whose sentences weren't suspended, for example, have not been detained and are certain to appeal. Even though none of them is expected to do any serious jail time, the President can keep the heat on them. Even chaebol chairmen such as Samsung's Lee Kun Hee who received suspended sentences will be under pressure to pay greater heed to government wishes. Kim likely will spare Chun from the gallows and lighten Roh's term in prison through presidential pardons.
The reason for the carefully nuanced treatment is that President Kim wants to reform, but not break, the Korean model. He has already made some credible moves such as lifting the practice of anonymous financial transactions, which helped bring the bribery scandal to light. The sentencing of the chairmen clearly signals that Kim will have much less tolerance for corruption. "The old system of bribery will be gone from the top levels and eventually throughout the whole system," says Gregory Beier, a principal with Seoul-based Hanmi Capital. "In that sense, the system becomes more modern."
NEEDED: A POLICY MIX. Easing the tight knots between government and business would certainly make it easier to liberalize some sectors of the economy. In June, Seoul lifted a ban on imports of 10 Japanese-made goods, including golf clubs. The number of banned imports has declined from 258 in 1993 to 152 today, and other liberalization measures are in the works. Kim is pushing these reforms partly because he has huge personal prestige on the line. He has vowed that Korea will become the first Asian economy outside Japan to win entrance into the Organization for Economic Cooperation & Development.
But will he go far enough? What's badly needed is a policy mix of more aggressive deregulation, more open trade, revised labor laws, and retraining of workers to lower soaring labor costs. Those sorts of steps would help broaden the industrial base to include smaller companies and diversify its export power beyond price-sensitive products such as chips, petrochemicals, and steel.
Ultimately, that means tackling the underlying problem of concentration. The chaebol's diversification into everything from convenience stores to construction discourages the development of small and medium-size businesses and keeps costs artificially high. The combined sales of the four biggest chaebol--Hyundai, Samsung, LG Electronics, and Daewoo--equal a stunning 84% of the nation's economic output.
So far, Kim hasn't had much luck getting a real grip on these challenges. Last month, he sacked his economic adviser and replaced Finance Minister Rha Woong Bae with a member of his own ruling National Assembly party. Yet few expect bold strokes from Rha's successor, Han Seung Soo, other than to promote Seoul's campaign of discouraging consumers from buying imports to ease the overall current account deficit, which reached $9.3 billion in the first half of 1996, vs. $8.9 billion for all of 1995.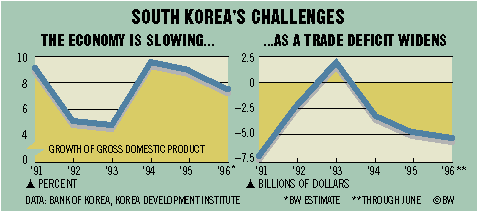 What Kim really needs to do, many analysts say, is redirect the chaebol to focus on their core strengths and let smaller domestic and foreign rivals specialize in markets these lumbering giants can't. Back in 1993, Kim pitched a plan to encourage the chaebol to focus on their three key businesses and gradually divest the rest. The plan was ignored, and the number of chaebol-affiliated business has grown 10% since then.
With the conglomerates extending their reach into virtually every aspect of Korea's economic life, it's hard to see how the nation will develop more competitive, smaller enterprises. Without radical reform, "economic growth will slow to below 6% by the turn of the century," warns Park Woo Kyu, a research fellow at the Korea Development Institute. That's why the biggest drama in Korea isn't in the courtroom but out in the economic trenches.
Before it's here, it's on the Bloomberg Terminal.
LEARN MORE