A Fat Pill With A Big Fat Problem
Redux cuts appetite but could carry serious health risks
Joseph Weber and Nanette Byrnes
It has been linked in a new study to a rare but often-fatal lung ailment. Yet weight-obsessed Americans have already turned a new diet pill, Redux, into the biggest drug debut since the nicotine patch. And it's set to get a hefty sales boost now that commercial diet clinics plan to make it part of their programs.
To hard-core dieters, Redux sounds like manna from heaven. Less than three months on the market, the drug's weekly prescriptions are topping 85,700. To many doctors, that's a recipe for disaster. "I'm scared," says Lewis S. Seiden, a University of Chicago pharmacologist. Redux is aimed at seriously obese people, but "my worry is it's going to be taken by people who are just 10-20 pounds overweight--and the benefit is not worth the risk," says Seiden.
Indeed, even as Redux grows toward a likely $100 million or more in sales this year, its safety is being called into question. Researchers writing in the Aug. 29 issue of the New England Journal of Medicine report that just three months' use of Redux and other similar drugs boosts the risk of rare but deadly primary pulmonary hypertension from under 2 cases per million to 55 cases per million patients. Longer-term use, the authors fear, could lead to one case in every 10,000 patients. Earlier, some researchers had suggested the drug might have an adverse effect on the brain.
The new study has prompted fresh worries at the Food & Drug Administration, which approved Redux on Apr. 29. After consulting with the FDA, marketer American Home Products Corp. and owner Interneuron Pharmaceuticals Inc. agreed to strengthen warning labels and write cautionary letters to 300,000 health-care providers. While American Home officials insist the disease risk "remains small," they urged people with shortness of breath, chest pains, or other problems to stop using Redux.
In France, regulators have moved well beyond monitoring. After estimating that such "anorexigens" were responsible for 20 to 30 deaths a year, health officials decreed last fall that initial prescriptions can be made only by hospital-based specialists. That cut use from more than 200,000 60-capsule boxes per month to about 7,000 boxes. The French found the drugs were commonly used by only slightly overweight women.
American doctors remain free to prescribe Redux for anyone, but the marketers insist it isn't intended for cosmetic weight loss. For healthy people, Redux is recommended only for those who are 30% or more over desirable weight. A 5 ft., 4 in. woman would have to weigh 143 to 169 pounds or more to be a candidate; a 5 ft., 7 in. man 175 to 201 pounds or more.
Seriously obese people risk diabetes, heart trouble, and other ailments. So balancing those dangers against the seemingly small risks of pulmonary hypertension seemed worthwhile to the FDA, even though there were plenty of critics. Twenty-two scientists unsuccessfully urged the FDA to delay approval because of worrisome long-lasting brain-chemistry changes in test animals.
Now, however, some experts fret that the pills will become a crutch for people who would be better off just dieting and exercising. "The problem for all these medications is that once you stop taking it, you regain the weight," says Dr. Michael D. Jensen of the Mayo Clinic. "If it works, you're pretty much saying, `I will take it the rest of my life."'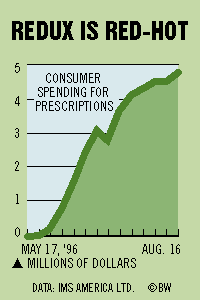 PROFIT PRESSURE. Critics are troubled by diet clinics' plans to promote Redux and make it available through in-house or affiliated doctors. But for outfits such as Jenny Craig Inc., the drug is a competitive threat they must defuse by offering it to clients. Since Redux hit the market in June, Jenny Craig officials say, sales have declined over 30%. The diet chain is testing the drug in three markets and will soon add more. Beginning Sept. 2, Nutri/System will offer Redux at about 80 outlets.
Diet clinics say the drug is no replacement for counseling and meal planning. They insist that only seriously overweight clients are candidates and say they'll screen accordingly. But for all their disclaimers, the allure of Redux may prove too powerful for diet chains--and dieters--to resist.