Why Egghead Had A Great Fall
Its secrecy turned Wall Street off. Now, the chain is buyout bait
Seanna Browder
Wall Street can get ornery when it feels ignored. Egghead Inc., a software retailer in Spokane, Wash., is finding that out in spades.
In March, Egghead raised some $95 million by selling off its corporate and government direct-sales operation. By May, when the deal was completed, its cash position jumped to an estimated $89 million, or $5.40 per share. By mid-June, its share price had topped $12 on speculation that Egghead would do great things with the money. Today, analysts and investors are griping that management since has clammed up, failing to enunciate a clear strategy.
The result: Egghead shares have dropped below $8, and the retailer, trading below book value, is clearly takeover bait. Company watchers say potential buyers of the nation's No.3 software retailer include competitor CompUSA, video store giant Blockbuster, and Softbank, the acquisitive Japanese conglomerate that on Aug. 15 said it would pay $1.5 billion for PC memory board maker Kingston Technology Corp. It's unclear whether management is shopping Egghead around: In faxed replies to BUSINESS WEEK queries, the company didn't respond to that question.
It's not that Egghead hasn't been working to address its problems. After constant management shuffles, its board three years ago brought in Terence M. Strom, a former marketing vice-president at No.2 software retailer Best Buy Co., as CEO. His challenge: to upgrade Egghead's small, convenient stores--which had been losing ground to relentless rivalry from such superstores as No.1 CompUSA and Best Buy. Strom's solution was to open 19 bigger Egghead outlets around the country--5,000 square feet vs. Egghead's traditional 2,000 and the 20,000 or so of superstores. The new stores carry a mix of leading-edge hardware and software, with software titles organized by category--like books in a bookstore.
SPUTTERING. The results, however, have been mixed: Egghead claims that in the quarter ended June 29, 11 of the new stores had average 30% sales increases over the same period a year ago, but sales stayed flat at the others. Overall, the chain is still sputtering: In the June 29 quarter, it lost $7.6 million on sales that fell 7%, to $78.6 million.
Enter George P. Orban, who was appointed chairman in May. Orban, 50, an early Egghead investor and board member, is an experienced corporate fixer. He founded Ross Stores Inc., a discount clothing chain and helped other companies, such as Florida's Office Mart Inc., which were later sold off. Orban and Strom are evaluating Egghead's new stores.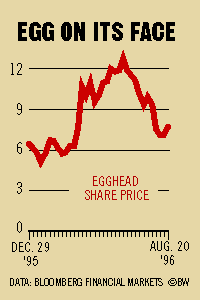 Whether Egghead can succeed in the cutthroat world of software retailing is open to question. Some analysts say its best prospects lie elsewhere. Last year, in partnership with Lotus Development Corp. and AT&T, its Elekom electronic commerce unit created Eletrade, software that lets desktop users browse electronic catalogs and make purchases. With the backing of IBM and American Express Co., Elekom is now ready to sign up corporate customers. "The potential is huge," says Thomas Carley, a Jensen Securities analyst.
If so, that would make Egghead even more valuable. The questions now: Will buyout rumors drive the shares back up? Or will a bargain hunter swoop in and confirm all the talk?
Before it's here, it's on the Bloomberg Terminal.
LEARN MORE