U.S.: Why The Fed Is Keeping Its Cool This Summer
Trade woes and a softer housing market will help to slow the economy
by
The key question in the minds of economists, market players, and policymakers at the Federal Reserve is: How much is the economy slowing down? The answer is crucial to the outlooks for both inflation and interest rates.
So far in the third quarter, the only thing that's clear is that growth is not matching the second quarter's robust 4.2% clip. In fact, that pace might well be revised upward, based on a sharp narrowing in the June trade deficit. A wider trade gap for the quarter still sapped second-quarter growth, but not by as much as the Commerce Dept. first estimated.
Right now, the data suggests that growth is slowing enough that the markets and the Fed can put their inflation worries on hold, at least for the moment. That's why the Fed left interest rates unchanged at its policy meeting on Aug. 20. However, it's still unclear whether the economy is slowing to a pace that will keep inflation worries at bay--and the Fed on the sidelines.
Looking at the current quarter, trade is again likely to be a drag on growth, as healthy domestic demand continues to draw in cheaper imports, partly as a result of the stronger dollar (chart). And housing, which supplied a big boost in the second quarter, appears to have topped out. On growth's plus side, consumer spending seems to have picked up in August. Capital spending for equipment looks solid. And factory output still appears to be accelerating, suggesting that inventory rebuilding also is giving growth a lift.
ONE REASON THAT CONSUMER SPENDING in August appears to be bouncing back from July's lackluster showing could be the continued strength in the labor markets. The Johnson Redbook Report shows receipts at department and discount stores through mid-August up a solid 1.2% from July.
At the same time, the four-week average of initial jobless claims through the week ended Aug. 10 has plunged to a seven-year low of 313,000. That level is consistent with rapid job growth and could well foreshadow a big gain in August payrolls, to be reported on Sept. 6, and a further decline in the jobless rate.
Healthy consumer spending, which helped cut excessive inventories in the first half, is now helping to fuel a pickup in manufacturing output. Overall industrial production rose a scant 0.1% in July, but that reflected a steep 1.8% drop in utility output, because July was unusually cool. Output in manufacturing advanced 0.3%, led by a big gain in car and truck output (chart).
Factory production increased at a 6.5% annual rate in the second quarter, the fastest pace in a year and a half, and in July, output had already grown at a 4.3% rate ahead of the second-quarter level. Even moderate increases in August and September should yield a faster third-quarter pace, barring a lengthy strike by the United Auto Workers this fall.
The pickup in factory production also extends to business equipment, a sector that is speeding up again. After growing only 4.6% all of last year, down from a 10.7% pace in 1994, equipment production in the first seven months of 1996 rose at a 12.1% annual rate. That could signal two things: First, U.S. capital spending may be firming up in response to a stronger economy, and second, capital spending abroad may be picking up as well--to the benefit of U.S. exporters.
INDEED, EXPORTS ARE NOT THE REASON for the second-quarter deterioration in the trade deficit. That blame goes to imports. Exports dipped 0.3% in June, to $69.7 billion, but much of the decline reflected a drop in volatile aircraft shipments. For the quarter, total exports rose at a 7.3% annual rate, up from 2.6% in the first quarter.
So far, the dollar's recent strength has not forced exporters to raise prices. Export prices fell 0.5% in July, and excluding farm products and the soaring cost of grains, prices are down 1.6% from a year ago. That, plus improving economies in Mexico and Canada, should continue to lift exports in coming months.
The story for imports is much less encouraging for growth. Despite a 3.3% drop in imports in June, goods and services from abroad in the second quarter still soared at a 13.9% annual rate, up from an already rapid 11.7% gain in the first. Although the June trade deficit narrowed to $8.1 billion from $10.5 billion in May, the gap for the second quarter still widened. A large increase in the U.S. trade deficit with China bears watching. That bilateral deficit hit $3.3 billion in June, eclipsing the $3.2 billion gap with Japan for the first time.
Trade is likely to remain a drag on third-quarter economic growth, mainly because the outlook for imports is little changed. The dollar's strength is allowing foreign producers to cut import prices. Excluding fuels, import prices in July were down 2% from a year ago, at a time when domestic demand has been strong.
As a result, foreigners continue to increase their share of U.S. markets. Excluding oil, imported merchandise satisfied a record 26.5% of domestic goods demand in the second quarter. Foreigners may well see the current U.S. climate as an opportunity to regain some markets lost when the dollar was weaker. Ward's Automotive Reports expects U.S. auto makers' market share to decline in August to its lowest level in several months.
ANOTHER DRAG on third-quarter growth will be housing. Residential investment soared at an annual rate of 15.1% last quarter, the largest gain in 2 1/2 years. In July, however, housing starts dipped for the third consecutive month. They fell 1.3%, to an annual rate of 1.45 million, from 1.47 million in June. Starts of single-family homes fell a sharp 5.7%, to 1.13 million.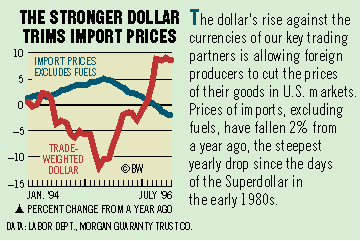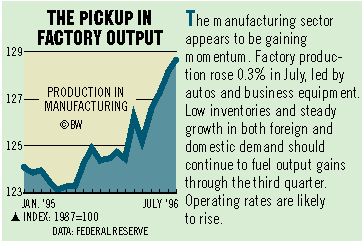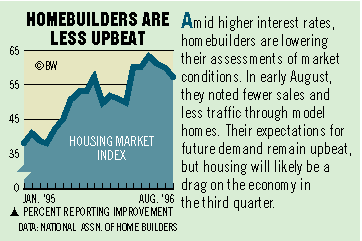 Homebuilding began the third quarter well below the second-quarter level, a fact that is echoed by the latest survey of builders by the National Association of Home Builders. The trade group's Housing Market Index--a composite of builders' responses about current sales, expected demand, and buyer traffic through model homes--also fell for the third month in a row in August, suggesting continued deterioration in demand (chart). The August reading of 57% is still above 50%, the dividing line between rising and falling housing activity, but conditions clearly have softened compared with May, when the index stood at 63%.
Right now, housing and foreign trade are the two big impediments to third-quarter growth. Larger sectors such as consumer and capital spending appear to be holding their own, suggesting the economy is cooling down. But if major sectors show more pickup in coming months, growth may not be slowing as much as the Federal Reserve would like. If that's the case, then talk about a rate hike may begin to resurface this fall.
Before it's here, it's on the Bloomberg Terminal.
LEARN MORE