The Catholic Church's Divorce From Power
Karen Lowry Miller
Dawn is breaking over the Jasna Gora monastery, set like a fortress overlooking the town of Czestochowa, near Krakow. Already, a few solitary figures are making their way up the hill. They've come to worship before the painting of the Black Madonna, Poland's holiest icon, which has hung in the chapel here since 1382. Inside, three elderly women cross the white marble floor on their knees. The walls are lined with rosaries, handwritten prayers, and abandoned crutches--testimony to those who believed and walked away.
At 5:30, a monk leads worshipers in a breviary, a religious chant that Polish countrywomen still recite while milking cows or baking bread. Suddenly, at 6, hidden trumpets sound. A metal panel slowly slides up to reveal the Madonna and child. A farmer feverishly fingers his rosary. A young father sweeps up twins in polka-dotted dresses to give them a better look.
This is just a taste of the extraordinary faith of so many Polish people. Two weeks before the Aug. 15 Assumption of Mary celebration, some 300,000 pilgrims already are making their way to the shrine. Workmen are setting up temporary outdoor wooden confessionals. Souvenir stalls have stocked up on blue plastic water bottles shaped like Mary, her crown screwed on as a lid. Deputy Prior Jan Pach views the chaos serenely. Taking yet another phone call, he grins and says: "120 bicyclists arriving Aug. 12."
He can be grateful for the crowds, given the crisis facing today's Catholic Church in Poland. Over 90% of the 39 million Poles are Catholic, but they no longer blindly follow the church in political and secular matters. So Catholicism is struggling to find a role for itself in the post-communist world.
The most palpable force in Poland now is the economy. The Democratic Left Alliance, made up of former communists who have run Parliament for nearly three years, has reduced inflation and fostered enterprise. Poland now has one of the highest growth rates in Europe. Many Catholics, especially younger ones, aren't heeding the Church's virulent anti-communist opposition to the government. They want the Church to stick to the gospel and stay out of politics.
BACKLASH. Its diminishing role is painful for the church, which has dominated Polish history for 1,000 years. During the communist era, even unbelievers and anti-clerics stood by it as the only haven for artistic and intellectual dissent. After Krakow Archbishop Karol Wojtyla became Pope John Paul II, his 1979 visit nourished the rebellious Solidarity union. When the communists imposed martial law in 1981, white-robed Jasna Gora monks walked the streets offering moral support. Armed soldiers left them alone. A few even whispered: "Bless you, Father." When communism collapsed, Poland reinstated religious education in public schools and passed laws requiring the media to uphold Christian values.
Then Poles began to experiment with the freedoms of democracy. Last fall, they ousted President Lech Walesa, the once-popular leader of the Solidarity movement, in favor of former communist Aleksander Kwasniewski. Walesa had cloaked himself in Catholicism, and many blame his fall on a backlash against church meddling in politics. "The Polish Church doesn't know how to behave in a pluralistic society," says Jerzy Turowicz, editor of the lay Catholic weekly Tygodnik Powszechny. "The Polish Church does not intend to withdraw from public life," says Bishop Tadeusz Pieronek. "We say what we believe, and we are accused of meddling."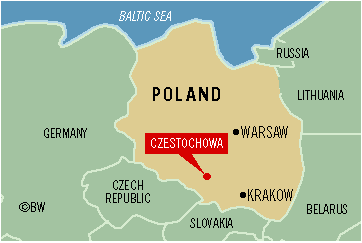 The monks of Jasna Gora understand. Their prior had to resign last year after saying Kwasniewski was not welcome there. Pach says he was safeguarding the chapel's role as a sanctuary for all who come in faith and protecting it from becoming a political grandstand. Now, the president is said to want to pay a high-profile visit in September. "We will never invite him," says Pach. But "anyone who comes in a humble and prayerful manner, including Mr. Kwasniewski, is welcome here."
The Church in Poland can no longer lead the nation. Now it must focus on leading the faithful.