Lots Of ~~"Doom" But No Gloom
The smash video game is just the beginning for GT Interactive
Paul M. Eng
Mention the title Doom to computer- game addicts, and they'll wax ecstatic about the twentysomething programming geniuses at id Software, creators of the best-selling gore-and-monster-filled game. Few ever stop to consider the real power behind Doom--GT Interactive Inc. GT who?
GT Interactive was founded in 1993 by Ronald W. Chaimowitz and Joseph J. Cayre as a spin-off of Good Times Home Video, which distributes videotapes to retailers such as Wal-Mart Stores Inc. GT Interactive had deals to distribute other software companies' products to such mass marketers but lacked its own product. Chaimowitz, 49, figured he could package software the same way he promoted pop music in his previous life as an executive at CBS Records International's growing Latino music division--home of megahit crossover recording artists such as Gloria Estefan and Julio Iglesias.
Chaimowitz believed that software hits also could come from unknown but extremely talented artists. All he had to do was find them, package their games, and distribute the games to mass-market retail chains. "If you have the right product displayed properly at the right price, you'll win," says Chaimowitz.
So far, his theory is working. GT Interactive's revenues have soared from $10.3 million in 1993 to an estimated $390 million this year (chart), while its stock has gone from an initial offering price of $14.50 last December to around $21.88 today. According to PC Data in Reston, Va., more than 7% of all game titles sold in the retail channel last year bore the GT Interactive logo--beating out even Microsoft Corp.'s 4.5% share.
Retailers are taking notice: GT recently became the main software vendor for the 675 Target Stores, adding to its exclusive distribution deal with Wal-Mart's 2,200 stores. "They have one of the best distribution mechanisms in the business," says UBS Securities Inc. analyst Michael P. Wallace. "All software developers have to deal with GT if they want to sell in a Wal-Mart."
Still, challenges loom large for GT Interactive. For one, consolidation among tiny software-development houses means that finding and marketing the next big hit could get a lot harder--everyone is looking for the next Doom.
GT wound up spending a good chunk of the $150 million raised in its IPO buying small software makers 3D Realms Entertainment Inc., based in Garland, Tex., and Humongous Entertainment Inc. of Woodinville, Wash., in January. Chaimowitz is also lining up deals to make GT Interactive the exclusive publisher of quirky titles such as 9, an interactive adventure game produced by Robert De Niro's Tribeca Interactive that features the voices of Cher, James Belushi, Christopher Reeve, and the singers in the rock group Aerosmith.
NET GAME. True, 3D Realm's Duke Nuke 'Em 3D--yet another shoot-'em-up game--has good buzz and solid sales among hard-core gamers so far. But GT's other newly acquired titles, such as Humongous' educational title, Pajama Sam in There's No Need to Hide When It's Dark Outside, probably won't elicit the same wild cult following. And star-studded 9 may not fare any better than other celebrity CD-ROMs have of late. GT doesn't even have exclusive rights to Doom's successor, Quake, introduced in July. Id, noting how well GT profited as the middleman for Doom, will try marketing a version of Quake itself for one year before GT gets its retail version.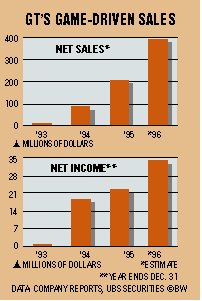 But GT Interactive has a few aces up its sleeve. There are still opportunities in overseas markets and in repackaging and distributing PC titles for game consoles such as Sony Corp.'s PlayStation. And GT has a potentially powerful tool in the Internet. Much in the way that constant radio play can turn songs into hits, the Internet could do the same for Chaimowitz' games. He wants to get Net surfers hooked with a small taste of GT's offerings delivered free online. He hopes game players would then rush to stores for more. Which could help GT top the chart, with a bullet.