France: Weak Output, Queasy Markets
The latest second-quarter data confirms that France's real gross domestic product fell in the spring, perhaps by more than the official forecast of 0.3%. Worse, the second-half bounce may be milder than expected--meaning real GDP for 1996 will grow by less than the government's target of 1.5%, thus snarling efforts to meet Maastricht Treaty criteria.
The July business survey by the French national statistics office shows that companies expect little improvement in future demand, especially at home, but inventories remain high (chart). Also, growth in output for exporting will come from productivity gains, not job growth.
Faster job growth, though, would ignite weak consumer spending, which fell 3% in the second quarter. Only 400 jobs were created last quarter, as hiring in the service sector barely offset losses in manufacturing and construction. Private economists foresee the unemployment rate, already a record 12.5%, topping 13%. Major companies have announced layoffs, and the government of Prime Minister Alain Juppe is cutting back on job-creation programs as it tries to trim the deficit. Budget proposals are not due until Sept. 18, but unions already are threatening trouble in the fall in an effort to stem the spending cuts.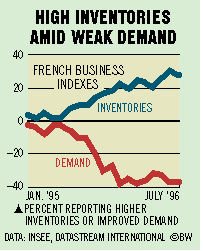 Questions about the deficit have hit the French franc and diminished chances for an interest-rate cut. After a peak in April, the franc has slipped 1.3% against the German mark, much of the decline coming since early July. Because the Banque de France has made the franc's strength a key part of monetary policy, the weakness makes it more difficult for the Banque to trim rates in the absence of a cut by the Bundesbank.
Juppe has denied reports of rising tension over the franc between the government and the Banque, calling the franc's fall "a tempest in a glass of water." Even so, foreign investors sold off 121 billion francs ($24 billion) of French bonds in the first five months of 1996. And the markets are still edgy over how the clash of policymakers will play out.
Before it's here, it's on the Bloomberg Terminal.
LEARN MORE