Bulldozers Bearing Olive Branches...But The Peace May Be Built On Sand
Hugh Filman
Amid the thatched huts and stilted wooden shacks of the Muslim town of Parang is the headquarters of the Philippine Army's 27th Infantry Battalion. Twenty minutes by jeep past rice paddies and rain forest and roadside stands that sell petrol out of Coke bottles is all it takes to reach the muddy mountain trail that leads to the main camp of the Moro Islamic Liberation Front (MILF), the country's second-largest Muslim rebel group. A decade ago, the troops of the 27th might have been on a search-and-destroy mission against the guerrillas. But these days, contact is carefully avoided. Instead, the soldiers focus on protecting roads from bandits and bringing health services to villagers.
It's part of a government strategy being implemented in southwestern and central Mindanao, where most of the country's Muslim minority lives and where tens of thousands have died in the insurgency since the early 1970s. The idea is to erode grassroots support for the guerrillas by fostering economic development. "What we are trying to do is find out the needs of an area and then tie up with the local government officials--tell them what these people need," explains Major Ernesto Aradanas, the battalion commander. He adds that this role as a go-between is vital in an area so backward that farmers can hardly conceive of such notions as a paved road to market.
The government hopes to sign a peace accord with the main rebel group, the Moro National Liberation Front (MNLF), on Sept. 2. It has an informal, uneasy truce with the rival MILF.
"You cannot make the peace permanent if there is no development," says Brigadier General Rene Dado, regional commander. "You have to put up roads, buildings, maybe factories."
Indeed, all along, the biggest enemy has been empty stomachs. The government reported that in 1995, per capita income in and around Manila was $946 a year compared with $131 in four Muslim Mindanao provinces. The villages around Parang are typical of Muslim Mindanao, where large families often cram into one- or two-room dwellings without electricity or running water.
President Fidel V. Ramos' administration is building infrastructure ranging from bridges to power grids. Foreign aid grants and loans are funding 35 ongoing projects worth nearly $470 million on rugged, resource-rich Mindanao--with an additional $1.2 billion to come within three years.
Not everyone agrees that the government is doing things right. Professor Rufa Cagoco-Guiam of Mindanao's Notre Dame University has studied the Muslim Filipinos for two decades. She says that the strategy is "largely modeled on the Western type of development, which Muslims don't like very much." She notes programs that encourage lending structured with interest rates are considered un-Islamic. During one period, Cagoco-Guiam adds, the government encouraged hog raising: While pork is a staple in the Catholic-dominated north, it's a Muslim taboo. At the very least, she says, before bringing in work crews, the government should consult Muslim communities to avoid the gun battles that have stopped some projects dead in their bulldozer tracks.
Manila expects a peace dividend from its pact with the MNLF: investment in Mindanao from such members of the Organization of the Islamic Conference as Indonesia, Malaysia, and Brunei. Then, too, there's relief from the war's tab of nearly $3 billion since 1970.
But some Christian leaders fear that Manila is giving too much and compromising the interests of Christian migrants from the north, who now are the majority in many parts of Mindanao. So far, there have been street protests, and some Christians have threatened to arm themselves.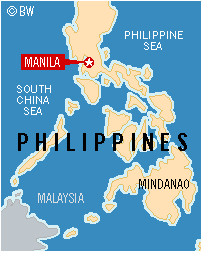 Meanwhile, the MILF and extreme Islamic rebel groups fear the MNLF is getting too little. The MILF wants a regional government that administers Islamic education and law, maintains its own security force, and regulates exploitation of natural resources. But they say they do not seek to drive the Christians out. Murad Ebrahim, MILF vice-chairman for military affairs, says his group is simply fighting for survival: "We feel that unless we are successful in establishing a government of our own, then gradually we will be annihilated. We will disappear in our own homeland."