Best Little S&L In California?
by
California thrifts are hot properties. Passion for savings and loans has spread to California, and pros who had been ignoring the group are snapping up shares of the state's S&Ls.
An S&L that one New York investment house is accumulating: Downey Financial (DSL), whose shares have jumped to 25, up from 20 in less than a month. The reason? Buyout fever.
"We believe a long-term takeover wave of S&Ls is building," argues Thomas O'Donnell of Smith Barney. As California's economy firms up, notes O'Donnell, large S&Ls will be chasing small ones. Two recent takeovers: First Nationwide Bank agreed to buy California Federal, and Washington Mutual opted to acquire American Savings.
"This takeover wave should crest in two to three years," O'Donnell believes, culminating in out-of-state banks buying merged California S&Ls. "Few will remain unaffected," he says.
Among the smaller outfits, Downey is an oft-mentioned target, he notes. "It's a diversified thrift starting to rev up under talented management."
One money manager argues that Downey, holding company for Downey Savings & Loan--with 53 branches and assets of $4.5 billion--has what big thrifts want: a high ratio of deposits to assets (it has nearly $4 billion in deposits), a turnaround in earnings, and a management team that has a fat stake: Chairman Maurice McAlister owns 20% of the stock. Other insiders own 6%.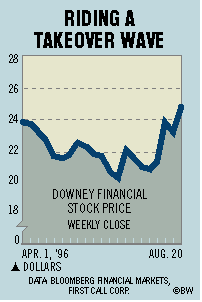 The investment manager figures the stock should fetch 30 based on fundamentals alone. "In a takeover, the stock is worth more--about 40," he says. This pro believes three major California S&Ls have expressed interest in Downey. CEO Steve Prough says "We're taking advantage of our great market niche to become much bigger." There are no takeover talks going on, he said.
Some analysts like the stock even without the prospects of a takeover. Currently trading close to its book value of 23, Downey "remains one of the most attractive and overlooked stocks among midsize California thrifts," says analyst Campbell Chaney of Rodman & Renshaw, a Chicago securities firm. Downey represents a "solid value," whose earnings, he adds, are expected to continue to grow at a double-digit annual rate.
Before it's here, it's on the Bloomberg Terminal.
LEARN MORE