As Apprenticeships Dwindle, Germany's Youth Fume
As apprenticeships dwindle, unemployed youths fume
Karen Lowry Miller
Sandra Kopp trudges into the state job-placement office in suburban Bonn braced for yet another disappointment. She's 16 years old, has just finished secondary school, and wants to start a career in retail sales. But after a summer of searching, she still has not landed the three-year apprenticeship she aimed to start in September. "Without training, I can't start my real life," Kopp says angrily. "It's not supposed to be like this."
Every day at labor offices from Hamburg to Munich, dejected young people face the same shock. Germany's comprehensive vocational training program--long the envy of policy planners worldwide--is unraveling. Corporate Germany, beleaguered by high wage and welfare costs and new competitors in Asia and Eastern Europe, is creating most of its new jobs outside Germany. Now, both blue-chip and Mittelstand companies are wary of taking on trainees because they have fewer new jobs to offer at home.
Indeed, for the second year running, too many applicants are chasing too few positions (chart). While that has been true in eastern Germany for years, the problem is hitting western Germany for the first time, raising alarm in the government. With the number of secondary-school graduates set to climb until 2006, that gap will only widen--adding young people to the swelling ranks of Germany's unemployed.
KOHL'S CHALLENGE. The weakening of Germany's apprenticeship program is a sign of larger problems in the country. The program thrived when labor was in short supply, the economy highly regulated, and companies needed to attract workers for a booming manufacturing economy. Under the system, two-thirds of secondary-school graduates take part in multiyear programs that combine academic studies and on-the-job training in one of 400 occupations, from electrician to dental assistant. But as big companies such as Siemens, Hoechst, and Daimler Benz move lower-skilled jobs abroad, their needs are changing. They want flexible workers who will constantly upgrade their skills. The apprentice program is not geared to produce such workers.
Chancellor Helmut Kohl is scrambling to patch up the system. He has been writing and calling top executives such as Bayer Group's Chief Executive Officer Manfred Schneider to twist a few arms. Bayer had planned to take on 800 apprentices this year, but on Aug. 7, the chemical giant agreed to add 100 more. While no apprentice is guaranteed a full-time job after the program of in-house training and classroom work, the 100 additional Bayer apprentices will sign special contracts stating that they won't be given jobs at Bayer. And the company will focus on skills that can transfer outside the chemical industry.
To keep business interested, politicians are also pondering ways to cut the program's costs. Companies pay 80% of the roughly $8 billion spent on vocational training each year, and about one-third of all companies accept apprentices. Some politicians want to slash the $600-per-month wage the average trainee receives and divvy up the money among more students.
"A JOKE." Meanwhile, the government hopes it can make the apprenticeships more relevant by offering new slots in services and technology-based businesses. Jurgen Ruttgers, who heads a newly combined education and science ministry, has pushed for five new apprenticeship programs to be added this year, including video editors and communications technicians. Other officials are also looking for new apprenticeships in areas such as security, leisure, health care, and other industries that are growing faster than manufacturing.
Germany's largest union association, DGB, however, wants companies to pay more to buttress the program. It recommends that companies put 2.5% of their gross wage costs into a kitty to finance training programs. That could raise an additional $6 billion and boost the number of companies providing apprenticeships to 50%, says Horst Kowalek, DGB's head of vocational training policy. Employers oppose this plan.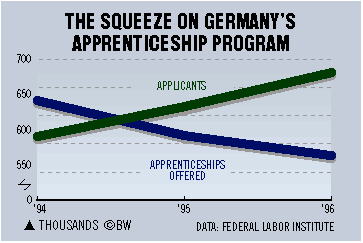 But there's no guarantee that these moves will work. Over the longer haul, Kohl's challenge will be to prevent the growth of a small army of unemployed youths who expected more from the government. Already, joblessness among 15- to 24-year-olds is 8.5%, and economists figure the numbers are even higher in eastern Germany.
In the depressed Lichtenberg neighborhood of East Berlin, Rico Meisner, 19, voices the worries of his generation. Eager to become a carpenter, he can find an apprenticeship only as a gardener. In eastern Germany, he complains in disgust, "the apprentice system is a joke." Germany's future competitiveness will depend on whether the country can produce workers suited for the global economy--even if the apprenticeship program plays a diminished role.
Before it's here, it's on the Bloomberg Terminal.
LEARN MORE