A Brazilian Forestry Giant Spreads Its Branches
With $1 billion in cash, Brazil's Aracruz may bid for rivals
By
When a eucalyptus falls in the Barra do Riacho forest along Brazil's Atlantic coast, usually the only person to hear the crash is the operator of a huge Caterpillar tree-felling machine. Luiz Kaufmann, CEO of Aracruz Celulose, which owns the 59,000-hectare plantation, likes it that way. He has chopped the Aracruz workforce by more than half in the 1990s while more than doubling output, making it one of the world's most efficient pulp companies.
Now the ambitious Kaufmann wants little-known Aracruz to become a global player. Over the next decade, he figures demand for pulp will explode in Asia and Brazil, so he's expanding capacity fast. He is also ready to snap up competitors weakened by low world prices and expects to diversify into higher-profit wood products such as construction timber and furniture.
TRIMMER TREES. To understand Kaufmann's confidence, gaze out over the seemingly endless rows of perfectly aligned eucalyptus at the Aracruz plantation in Espirito Santo state. In the mild climate, trees need just seven years to grow 35 meters, a rate matched only by Indonesian eucalyptus forests. Other hardwood forests take up to 10 years in South Africa, 15 years in Chile and Spain, and 40 years in Finland and Sweden. Aracruz furthers its natural advantage with some of the most sophisticated tree-cloning techniques in the industry. Aracruz eucalyptus trees grow with few side branches, allowing many more to be squeezed into planting areas.
That kind of efficiency has made the company a growing supplier to the U.S. market for tissue and high-grade paper stock, drawing in blue-chip customers such as Procter & Gamble Co. and Kimberly-Clark Corp. Revenues have more than doubled since 1990, to $767 million last year, as have profits, which hit $386 million in 1995, including investmentincome.That has allowed Kaufmann to pile up more than $1 billion in cash. "We have this big competitive advantage," he boasts.
Global stock-watchers agree. As an industry leader and a top Brazilian play, Aracruz is high on pick lists. Hillary Kircher Peruzzi, an analyst at Morgan Stanley Co. in New York, believes that, at their current price of around $8.25, Aracruz American depositary receipts are undervalued. "Its reputation in terms of cost, quality, and management is world-scale," says Kircher Peruzzi. As pulp prices rise from the bottom of the cycle, Aracruz will be among the first to benefit.
Analysts are also taken by Aracruz' reputation as environmentally friendly in an industry known for its depredations. Aracruz harvests only in eucalyptus plantations managed for sustainable yields. In its about 200,000 hectares spread out over three sites some 2,000 kilometers east of the Amazon rain forest, Aracruz has preserved 57,000 hectares of native trees interspersed with eucalyptus.
NEW MARKETS. Aracruz' pioneering style mirrors its founder, Erling Sven Lorentzen, 73, who set it up in 1972. Norwegian-born Lorentzen led a Resistance unit under Nazi occupation before making his way to Brazil. Lorentzen, who is married to the sister of King Olaf V of Norway, relinquished daily control of the company in 1987 but remains chairman of the board.
Kaufmann's mandate from Lorentzen is to act decisively. He is investing $300 million to expand capacity by 20% by early 1998 to meet growing demand for tissue paper in Europe and the U.S.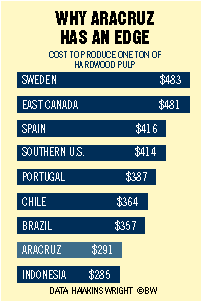 An even bigger move is likely next year. Kaufmann is expected to bid for Brazilian rival Cenibra, a venture between Japanese paper producers and Brazil's state-owned mining conglomerate, Companhia Vale do Rio Doce (CVRD). Cenibra, whose book value is about $700 million, would increase Aracruz' output by 70%, giving it dominance over world eucalyptus pulp production. The company should go on the block after CVRD is privatized early next year.
To further boost his expansion plans, Kaufmann has brought in a powerful new shareholder, Anglo American Corp. of South Africa, which bought 28% of Aracruz voting stock in May. With interests in forestry and photocopy paper, Anglo American will help Aracruz develop new markets worldwide. It won't be long before there's more noise at Aracruz than trees falling in the forest.
Before it's here, it's on the Bloomberg Terminal.
LEARN MORE