Urohealth Looks More Robust
by
UROHEALTH Systems (URO) has been in a whirlwind of buyouts. The maker of urological and gynecological devices has snapped up companies in an effort to become a one-stop shopping outlet for such gear--four acquisitions this year on top of five last year.
So far, the strategy has worked. In the past two quarters, UROHEALTH has changed from a loss-ridden operation into a moneymaker. And the company has attracted savvy players: A group including Leon Black, who heads Apollo Advisor, acquired a 22% stake. Apollo invested $22 million through the purchase of securities and debt. "We're impressed with the company's growth-and-acquisition strategy," says Mike Gross, a partner at Apollo.
David Pyrce, of San Francisco's investment firm Van Kasper, figures the shares, now at 123/4, are worth 20. He sees the company making 61 cents a share on revenues of $81.6 million and sees revenues rising to $120 million in fiscal 1998 and per-share earnings to $1.10.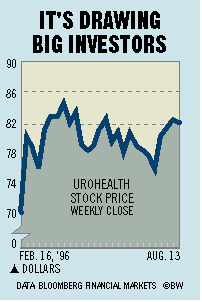 Pyrce's 1997 and 1998 earnings estimates, he explains, do not include the benefits from UROHEALTH's most recent acquisition: Richard-Allen Medical Industries, a maker of products for the gynecological and general-surgery markets, with annual sales of $21 million. He figures the newcomer will boost revenues to around $100 million and add 10 cents a share to the bottom line.
Pyrce notes that CEO Charles Laverty is "highly shareholder-oriented" and is building up UROHEALTH's assets and product line to create a company that larger outfits may be interested in. "I wouldn't be surprised if it ends up a takeover target itself," says Pyrce.
Before it's here, it's on the Bloomberg Terminal.
LEARN MORE