business
U.S.: Something's Gotta Give And It's Likely To Be Profits
Unit labor costs are up, but tightfisted shoppers may keep a lid on prices
By
It had to happen sooner or later. One of the key trends that has shaped this 5 1/2-year expansion--compliant unit labor costs--is taking a turn for the worse: Costs are starting to outpace inflation.
Big deal? Well, yes. Unit labor cost--the labor cost for each unit mf output--is the key determinant of pricing for most businesses. If the cost of making a widget exceeds its price, you lose money. For the first 4 1/2 years of this business cycle, unit labor costs lagged well behind the growth of prices. That meant companies didn't have to hike prices to make money, allowing cushy profit margins even when pricing power was nil. Now, this linchpin of the low-inflation, high-margin economy is eroding.
There's no need to bolt for the exits just yet, though. Inflation isn't going to come roaring back. First, the mild gain in July retail sales shows that demand is a little cooler than it was in the first half. Also, consumers remain too bargain-conscious. Nothing moves today's shoppers faster than the words "30% off." Except, perhaps, "50% off."
Still, wage pressures from a tight labor market and slowing productivity growth mean the halcyon days of the inflation outlook are over for this expansion. Unless the economy slows sharply, the growth in unit labor costs will put businesses between a rock and a hard place. Companies will either have to raise prices or watch their profit margins slip.
THE MOST LIKELY OUTCOME, at least in the near term, appears to be a little bit of both, but the bigger crunch is more likely to hit profits. That's because the pricing climate is still tough at a time when labor costs, which account for about three-quarters of the average business' expenses, are rising.
Unit labor costs grew at a sharp 3.8% annual rate in the second quarter. Over the past year, unit costs have risen 3.1%--far above the 2.1% advance in prices economywide, as measured by the gross domestic product chain-weighted price index (chart).
This gap started in the middle of 1995, about the time when the unemployment rate fell low enough to generate positive real wages and after productivity growth lost its cyclical gains. Output per hour worked in the nonfarm business sector slipped 0.1% last quarter. For the year, it's up only 0.7%.
Manufacturing efficiency rose 1.5% last quarter, but that gain was well below the recent trend. And given the quarter's 5.8% surge in compensation, factory unit labor costs jumped 4.2%. Although the trend in manufacturing productivity remains impressive, some of the gains are misleading. More and more factories rely on workers supplied by temporary-help agencies. And temps are counted as service-sector payrolls.
Businesses are unlikely to get much cost relief in coming quarters. A 5.4% unemployment rate means companies are scrambling to find skilled workers. And while demand is slowing, the rise in third-quarter GDP right now seems closer to 3% than 2%. After last quarter's 4.2% gallop, that's fast enough to make labor markets even tighter and to create capacity constraints.
A CONSUMER SLOWDOWN was evident at the nation's stores and shopping centers in July (chart). Retail sales edged up 0.1% last month, but that followed a revised 0.5% drop in June. Excluding autos, sales did look healthier, with a 0.3% gain erasing June's 0.2% decline. Real retail volume started the third quarter down a bit from the second-quarter level.
However, buying in early August looks better. The Mitsubishi Bank/Schroder Wertheim survey says store sales were up 0.6% from July. And the Johnson Redbook Report showed a stronger 1.8% gain. A solid August is vital for retailers because it includes the key back-to-school season. The upbeat August data suggests that shoppers in July were distracted by TV coverage of the Olympics and that July's unusually cool weather hampered sales of hot-weather items.
Shoppers remain cost-conscious, though, in part because they have other uses for their money, such as saving for college and retirement and paying off debts. For retailers, these discount devotees are punishing the bottom line. Even at their meager growth rate, producer prices of core consumer goods, which excludes energy and food, are rising faster than stores can mark up merchandise (chart).
Consumer discount-hunting helps to explain why the price indexes show little upturn. Consumer prices of goods and services rose a higher-than-expected 0.3% in July. The gain for core prices, which exclude food and energy, was also 0.3%. In the past year, consumer inflation is running at a mild 3%; the core rate is 2.7%.
Back at the wholesale level, the producer price index for finished goods was unchanged in July, while core prices rose just 0.1%. Over the past year, the total PPI has risen a mere 2.6%, and the core rate is only 1.5%. Further back in the production process, prices for core intermediate materials are down 1.8% from a year ago. Prices for core crude goods are down a steep 13.5%.
FOR CONSUMER INFLATION, two areas worth watching are housing and food. Housing costs have been trending higher because demand remains quite healthy. The July rise of 0.4%, though, reflected a 2.3% increase in lodging away from home. That jump is unlikely to be repeated, but rising home prices and rents will keep total service inflation from slowing further.
Food inflation is a bigger worry. In the past three months, food prices have risen at a 5.1% annual rate, the largest three-month gain in five years. Crop shortages may worsen the trend. Pointing to bad weather, the Agriculture Dept. cut its forecast for this year's corn harvest by 4.7%, suggesting that grain shortages will continue into 1997.
That won't mean just costlier tortillas. Corn is used for sweeteners, livestock feed, and cereal. So higher corn prices will increase the cost of many grocery items for months to come. The key question is whether consumers will accept the markups. Even as grain prices have risen, cereal makers such as General Foods and General Mills Inc. have cut prices steeply to attract more customers. The first casualty of the price war: Ralcorp Holdings Inc. will sell its cereal brands to General Mills.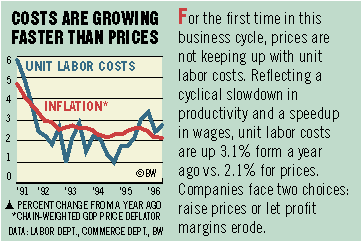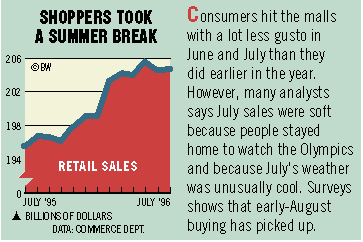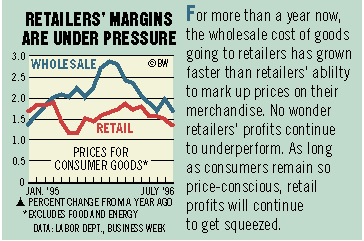 So too, carmakers are trying to ease sticker shock. Each of the Big Three has announced that the average price hike on its 1997 vehicles will be under 2%. And Chrysler Corp. is even putting rebates on some 1997 models.
Squeezed by rising labor costs, companies hope such spare markups will soon fall by the wayside. After all, the gain in real buying power from higher wages should make consumers more willing to accept price increases. It seems a straightforward trade-off. The problem for profit-seeking companies, though, is that it's not yet certain that consumers will play along.
Before it's here, it's on the Bloomberg Terminal.
LEARN MORE