Time To Say Goodnight, Dan?
As CBS Evening News slides, the anchor's seat gets hotter
Elizabeth Lesly
Dan Rather is still big. It's the audience that got small. Take the viewership of Rather's CBS Evening News in Albany, N.Y. At 6:30 p.m., 27% of all televisions in that market are tuned to the local news show of WRGB, the CBS affiliate, outperforming the national news shows of ABC and NBC. Come 7 p.m., it's Dan Rather time, and nearly half of WRGB's viewers flee. The Rather show loses the momentum of its healthy lead-in and pulls only a 16% share.
Nationally, the ratings performance of CBS Evening News has never been worse. When Rather inherited the anchor's chair from Walter Cronkite in 1982, he also inherited a 14.4 rating and a 25% share. Although the ratings of all three network news broadcasts have shrunk as some viewers have jumped to cable, CBS's decline has been the most dramatic (chart). For the first prime-time broadcast of the Republican convention, CBS lagged ABC and NBC. For the week of Aug. 5, Nielsen Media Research says Rather's broadcast scored a national rating of only 6.1, little better than its 5.4 performance the week of July 1, a historic low for a network news show, Nielsen says. In Los Angeles, CBS Evening News earns a rating of just 2.6, and in New York 3.0--less than half the score of the ABC and NBC news shows in each city.
That's a major problem for CBS and Westinghouse Electric Corp., which bought the network last year. Network news is a key opportunity to line up viewers for an evening's prime-time fare, as well as being a cornerstone of a network's prestige. And the continuing weakness at CBS Evening News has affiliates grousing. "The problems of CBS News are much, much more intractable" than at other CBS divisions, says Alan Bell, president of the broadcast division of WRGB parent Freedom Communications Inc.
Part of the problem may be Rather himself. "Rather is a person with no middle," says Bell. "He has passionate loyalists and passionate detractors." Eric Braun, a consultant with Frank N. Magid Associates Inc., also argues that CBS has miscalculated by continuing to make the program "star-centered" while years of cost-cutting have depleted the ranks of second-tier stars who might have added to its allure. "The product is out of whack," says Braun, who thinks many of those who still tune in do so out of habit.
The question now is what, if anything, CBS or Westinghouse will do to halt the slide. In just seven months on the job, CBS News President Andrew Heyward already has rejiggered 60 Minutes and 48 Hours and has completely reconfigured CBS's morning news show. But Heyward seems wary of changing CBS Evening News drastically. "We're not panicking. The program itself is very strong and getting stronger. Dan has never looked better," he says. But the ratings deterioration, Heyward admits, "is a matter of frustration. I'd like to see us competing more effectively. And over time, we can't just sit there and do nothing."
"NOT SHOPPING." Short of replacing Rather, which senior CBS executives say is not under consideration, what can be done? Heyward says if the ratings don't improve on the strength of the broadcasts alone, he may fiddle with the show's promotion and format. And he's talking to major news stars at other networks as their contracts expire. Heyward won't confirm talks with any individuals. But there are plenty of prospects who are free to strike a deal in the coming year, including Diane Sawyer and Ted Koppel at ABC and Bryant Gumbel and Tom Brokaw at NBC. "We're not shopping around for someone to plug in [Rather's place] right now," says Heyward, but "Dan is fully aware of the need to bring people into CBS news. We're looking at news superstars for a person who could step into that role eventually."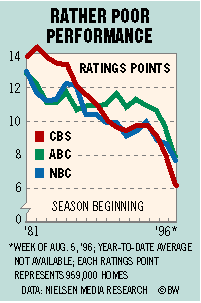 Rather may well stay put until his current contract (salary: an estimated $5 million annually) runs out at the end of 1999. But some affiliates don't want to wait that long. "Dan has gone downhill ever since that [contentious 1988] interview with George Bush. The show has lagged in the ratings for a long time. Steps have to be taken," says Gray Communications Systems President Ralph Gabbard, who heads the CBS affiliates' board. Being a distant third in network news "means [losing] money, prestige, and pride," he says. That's a situation the network may not be able to tolerate all that much longer.
Before it's here, it's on the Bloomberg Terminal.
LEARN MORE