Slasher At Large At Sony Pictures
Still recovering from the Guber era, it faces new bloodletting
By
For Alan J. Levine, president of Sony Pictures Entertainment, a trip to Hawaii quickly turned into a lousy summer vacation. Early August news accounts from the mainland had him being forced from his job as Sony's top Hollywood executive, and the fax machine in his room at Maui's Four Seasons Hotel was spewing out urgent messages. Finally, at 11 p.m. Maui time on Aug. 7, he reached Sony Corp. President Nobuyuki Idei in Tokyo, who he says assured him that his job was secure.
For Sony's Hollywood execs, job security is always a topic of high drama. Since 1989, when the Japanese electronics giant paid $3.4 billion for Columbia Pictures, an amazing number of moguls have departed. In all, Sony's top U.S. executive, two entertainment unit chiefs, and four studio chiefs have taken mega-buck severance packages. Now, it seems, the turnstile may spin again.
DOG DAYS. Wracked by a horrid summer at its film unit, Sony's Tri-Star Pictures Inc. head Marc Platt, Columbia Pictures President Lisa Henson, and top marketing executive Sid Ganis have all left since mid-July. And now Levine is carefully reviewing all deals done by Mark Canton, who runs Sony's combined film operations for Levine. Canton will be sent packing if the schedule contains any hint of money-losing films such as this summer's Multiplicity and Sunset Park. Further up the chain of command, Jeff Sagansky, overall strategic planner for Sony's film and music units and Sony's top American in the U.S., is said to be mulling a departure from his job. Sagansky declined to be interviewed.
As for Levine, a 49-year-old onetime entertainment attorney, things look secure for now. One of the few holdovers from the spendthrift five-year reign of former Sony studio chief Peter Guber, Levine has won high marks for cost-cutting. His pruning has helped give Sony six consecutive profitable quarters after taking $3.2 billion in write-offs in 1994. A strong TV unit and a new German TV deal lifted revenues in the quarter ended June 30 by 84%, to $977.3 million. "Just look at the numbers," says Levine. "We've been doing the job that has been asked of us."
But how long Levine's job will stay secure is unclear. The final say rests with Idei, who one former Sony executive says "will make his own decision in his own time." Sony issued a tepid show of support for him in a letter to studio executives from Sony Deputy President Tedasu Kawai. In Levine's favor, Columbia's TV operations still do well. But its film unit has faltered lately. The Jim Carrey comedy The Cable Guy has grossed just $58 million, far less than Sony anticipated. And the upcoming Devil's Own was plagued by personality clashes between actors Brad Pitt and Harrison Ford--and zoomed nearly $20 million over its $67 million budget.
Insiders say Sagansky, who was passed over for the top U.S. job when Sony Corp. of America Chairman Michael P. Schulhof quit under pressure in late 1995, has openly promoted longtime friend and former Home Box Office Inc. Chairman Michael J. Fuchs for several jobs at Sony. Among them: Levine's and that of music-unit chief Thomas D. Mottola. Fuchs flatly denies he has sought any Sony job.
Meanwhile, Idei authorized Levine to fashion a relatively puny studio spending strategy. Sony is spending $100 million annually and has launched, mostly in partnership with others, 13 cable channels in such places as Asia, Latin America, and India to air some of its 3,400 films and 35,000 TV episodes. Since 1994, it also has operated the Game Show Network, which airs episodes from its 61 game shows, which include Family Feud and Wheel of Fortune.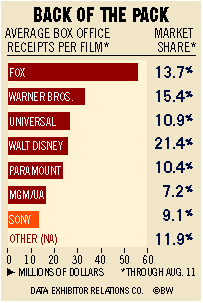 Otherwise, Sony is moving slowly in the U.S. Foreign companies are prohibited from buying U.S. TV networks outright, but CBS Inc. looks to be a possible partner. Michael H. Jordan, CEO of Westinghouse Electric Corp., which bought CBS last year, met with Idei in mid-July to discuss potential ventures. "We've talked on an ongoing basis with Sony," says a senior CBS executive who says possible deals could arise in cable TV, expanded programming alliances, or an international joint venture.
Meanwhile, Sony's studio needs some winners. Insiders predict good things for such new attractions as The Fan with Robert De Niro and Jerry Maguire, a Tom Cruise vehicle. The question is which Sony executives will be around to check the box office.