Delta Express Or `Delta Distress'?
If its new shuttle service succeeds, it will be an industry first
David Greising
The airline industry has its own version of the Edsel, and it's called Continental Lite. After less than two years of operation and more than $100 million in losses, Continental Airlines in early 1995 grounded its shuttle operation as a hopeless exercise that confused customers, cannibalized its full-fare operations, and distressed employees.
That's why, as Delta Airlines Inc. prepares its own shuttle, Delta Express, for an Oct. 1 launch, industry wags already have christened the enterprise "Delta Distress." Rivals and industry experts alike say the plan to launch a low-cost shuttle could tarnish the airline's image, even as it fails to deliver on hoped-for savings and profitability targets. "A separate entity with a separate brand name confuses the public and takes management attention away from the main product," complains Michael Boyd, president of consulting firm Aviation Systems Research Corp.
Delta is determined to make its shuttle work. W.E. "Skip" Barnette, managing director of Delta's low-fare initiative, says Delta can run at a low enough cost with enough daily flights to make its shuttle profitable from day one.
ONLY PEANUTS. On paper, at least, Delta's plan appears to have promise. First, pilots flying the Boeing 737 planes for Express agreed in April to a 32% pay cut in a deal to return 532 furloughed Delta pilots to work. The planes will fly an average of 12 hours a day, up from Delta's average of 7.4 hours for 737s. And with first-class sections removed, Delta will be able to board more customers, who will pay only about a third of what they would pay for a same-day, one-way coach fare on a regular Delta flight.
The airline is turning its regular operations inside out in its bid to save time and money. For example, even though the right-side engine runs air-conditioning systems, Delta Express planes will taxi into gates using only the left engine, so bags can be unloaded immediately from the cargo doors on the right side. To encourage customers to arrive early, Delta Express agents will assign seats only after passengers appear at the gate. Magazines and blankets will be stowed in back of the planes so customers don't dawdle.
SACRIFICE. Still, along with the savings and efficiencies, Delta has built in serious potential for trouble. For example, to limit the customer confusion that was Continental Lite's biggest problem, the airline is eliminating full-fare flights on all Express routes. But that means it is sacrificing several that are lucrative. Boston-Orlando, for one, now runs 80% full. And Delta Express managers can expect morale problems as pilots who took the 32% pay cut work alongside other employees still drawing full pay. "Delta Express may work on paper, but it's going to be difficult to work out operationally," warns David Stamey, vice-president of aviation consulting at Avitas Inc.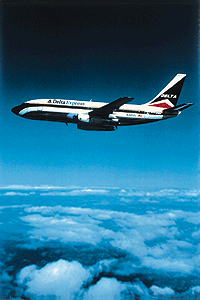 Then there's the Southwest Airlines Co. factor. The Dallas-based low-cost carrier will compete directly with Delta Express on at least five routes linking Orlando to Northeastern and Midwestern cities. Southwest still operates more cheaply and would have an edge in any fare war. And Southwest already is roughing up one megacarrier offshoot, forcing United Air Lines Inc. to withdraw its Shuttle by United from four West Coast routes where it competed with Southwest. "While the war is going on, it's going to cost us very, very little," vows Pete McGlade, Southwest's vice-president of schedule planning. But it could cost Delta plenty.
Before it's here, it's on the Bloomberg Terminal.
LEARN MORE