Clipping The Wings Of Credit Unions?
A U.S. court ruling could bar nonemployee members
Dean Foust
Mike Parleir needed only $5,000 more for a downpayment on a house in Asheboro, N.C., two years ago. But none of the area banks would touch him, even though his $50,000 salary from a food distributor was high by local standards. The reason: Parleir's own seafood eatery had ended up in bankruptcy in 1992. So Parleir turned instead to the credit union available through his employer--the AT&T Family Federal Credit Union based in nearby Winston-Salem. "I'm pretty loyal to them," says Parleir. "When I needed help, they were the only ones who came to my defense."
But Parleir's love affair with his credit union could be in jeopardy. On July 30, a federal appeals court in Washington delivered a potentially harsh blow to AT&T Family Federal Credit Union and thousands of similar institutions. In a precedent-setting decision, a three-judge panel ruled that regulators had improperly allowed credit unions, formed to serve specific employee groups, to add members from unrelated companies or professions.
The full impact of the decision won't be known until a lower court fleshes out new rules for the industry, which won't occur before October. But at the least, legal experts believe occupation-based credit unions such as AT&T Family may be barred from accepting new members from outside their core employee groups. At worst, the lower court could force the institutions to divest millions of nonemployee members such as Parleir--essentially breaking up roughly 2,000 of the largest credit unions. The ruling "has the potential to be catastrophic," worries Robert M. Fenner, general counsel to the National Credit Union Administration, the regulator chastised by the court.
CHERRY-PICKING? The tremendous expansion of credit unions began in 1982. At the time, NCUA officials realized that the recession driving many old-line manufacturers out of business was in turn causing their credit unions to fail as laid-off employees were unable to pay off credit-union loans. Massive failures would have forced the government to bail out depositors at taxpayer expense. So the NCUA allowed credit unions to diversify their memberships beyond their own companies, organizations, or communities.
The policy change touched off a boom. Since 1982, credit unions have grown roughly fourfold, controlling at midyear an estimated $330 billion in assets from about 70 million members. Much of that growth has come from luring customers from outside: Only one-third of AT&T Family Federal's members actually work for the phone giant. Instead, most of its $480 million in assets come from nearly 300 other organizations stretching from Ohio to Florida.
Not surprisingly, bankers are furious about losing customers. They gripe that the credit unions' nonprofit status--which frees them from paying income taxes and shareholder dividends--gives them an unfair pricing advantage. The credit unions say the differences reflect the better credit risks of its members, among other factors. But bankers argue that credit unions have strayed too far from their original mission as Depression-era cooperatives, lending to workers denied credit by banks, and are increasingly catering to the white-collar crowd. "They come in and cherry-pick the most profitable business and then give nothing back to the community," complains Joe G. Howard, senior vice-president at First National Bank & Trust Co. in Asheboro, N.C.
APPEALS PROCESS. In 1989, First National, four other North Carolina banks, and the American Bankers Assn. sued the NCUA for allowing AT&T Family Federal's heady expansion. They argued that NCUA's move violated a 1934 law establishing federal credit unions. After years of legal wrangling, the appeals court agreed, ruling that "all members of a [credit union] must share a common bond."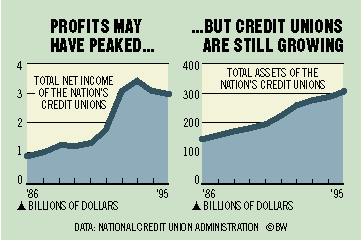 Credit unions plan to take their fight to the U.S. Supreme Court. If they don't win, they vow to ask Congress for relief. They note that all credit unions combined are still only about the same size as the U.S.'s largest commercial banking company, Chase Manhattan Corp. They also contend that bankers' woes stem mostly from poor treatment of depositors and borrowers. "Banks should expend their energy on improving their customer service, rather than trying to pull apart credit unions," says AT&T Family Federal President Marc Schaefer. But if the appeals court ruling stands, people like Mike Parleir could be back out on the street looking for a friendly lender.
Before it's here, it's on the Bloomberg Terminal.
LEARN MORE