Canada: Will Rate Cuts Spell Relief?
What will it take to pull Canada out of its malaise of high unemployment and weak consumer demand? The Bank of Canada may have the answer.
The BOC cut interest rates by a quarter-point on Aug. 9 for the second time in three weeks. The cuts since May, 1995, now total 3 3/4 percentage points. And with the target range on banks' overnight lending rate now down to 4% to 4 1/2%, Canadian monetary policy is the most accommodative on record. Moreover, with inflation possibly set to slip below the BOC's 1%-to-3% target and with the Canadian dollar stable, further rate-cutting cannot be ruled out.
Weak job data for July confirmed that the economic bounce after the November vote on Quebec sovereignty has petered out. Retail sales have been flat since January. And after inflation dipped unexpectedly, to 1.4% in June, the BOC felt a move was justified. The financial markets agreed.
Canada is really two economies right now: one fueled by net exports, primarily auto shipments to the U.S., and one beset by slumping domestic demand, mainly weak consumer spending. Consumers are constrained by soft job markets and public-spending cuts.
Quebec is responsible for some of Canada's split personality. The province accounts for 23% of the country's jobs, but since February, Quebec payrolls are down 90,000 (chart), while jobs elsewhere in Canada are up 73,000.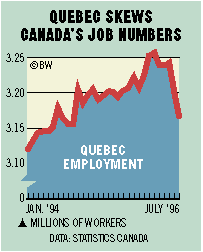 Strong exports and flagging imports propelled the trade balance into a record surplus last quarter, fueling manufacturing output. Trade improvement appears to have added some two percentage points to second-quarter economic growth, expected to be in the 2%-to-2 1/2% range. Trade is also a key support under the Canadian dollar, along with low inflation and progress toward better control of government finances. Lower interest rates are already lifting housing. Businesses have revised up their capital-spending plans. And the huge rate cut will ultimately spur a resurgence in consumer spending, all to the benefit of second-half growth.
Before it's here, it's on the Bloomberg Terminal.
LEARN MORE