Bargains On The World's Bourses
by
The big scare that rocked Wall Street in July has given way to the languor of August. Even traders who aren't on vacation are more relaxed, as recent economic data have temporarily calmed fears of a hike in short-term interest rates before November's Presidential election.
But the operative word is "temporarily." The U.S. market isn't out of the woods, and a couple of scary numbers on spending or wage growth could cause another round of jitters. That's why many fund managers are looking at foreign stocks as an alternative. They argue that while the next move from the Federal Reserve is more likely to be up than down, interest rates abroad will probably stay low to stimulate economies that in many cases are struggling to break out of recession. That bodes well for growth and corporate profits abroad. Over the next year, says William Sterling, chief strategist for New York money manager BEA Associates, "we'll see foreign markets making good gains while the U.S. does nothing."
ON THE PROWL. Some money managers view the current lull as an opportunity to bargain-hunt. Just ask Bruce Bee, a money manager in Denver who specializes in small-capitalization stocks. He's snapping up shares of such overlooked companies as Stratec Holding, a Swiss maker of orthopedic equipment that boasts a stellar 30% return on equity but is trading in Geneva at a price-earnings ratio of only 4.
Bee is also on the prowl for underperforming European companies that are expected to slim down. In the financial sector, strategic shifts at Deutsche Bank, CS Holding, and Swiss Bank, among others, are sparking speculation that even more industry restructuring is on the way. One possible winner, notes Montgomery Asset Management Managing Director John Boich, is Paris-listed Credit Commercial de France. Despite 15% annual earnings growth, CCF sells at book value--half the valuation of some larger European competitors--in part because of the taint of France's troubled banking sector. Boich feels CCF could become a takeover target for another French bank eager to get its hands on its successful fund-management business.
PHONE FAN. Others think richer treasure lies buried in the developing world. "There still are screaming buys on emerging markets, particularly in Latin America," says Richard Johnston, a managing director at New York-based Offitbank. Johnston is particularly enthusiastic about prospects for the Brazilian and Peruvian phone companies, Telebras and Telefonica de Peru. Both companies, he says, boast annual earnings growth of about 25% and, as a bonus, trade in the U.S. through American depositary receipts. Yet each is trading at a p-e of 9--nearly half the current ratio for the Dow Jones industrial average.
Gary Greenberg, deputy managing director of Peregrine Asset Management (Hong Kong) Ltd., is combing through Asian markets for fast-growth stocks. He's finding them in insurance, an industry just taking off in many developing countries. Greenberg is recommending Indonesia's Lippo Life Insurance, a local provider that trades on the Jakarta exchange, and Thailand's Ayudhya Insurance Public Co., a property/casualty insurer listed in Bangkok.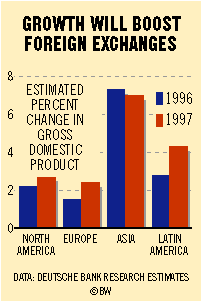 The perception that the Federal Reserve will leave interest rates alone for now makes such emerging markets even more attractive, since their fortunes are heavily dependent on U.S. monetary policy. That's why Chase Asset Management's chief investment officer, Mark Richardson, recently increased his holdings in Latin America and East Asia. In Europe, Richardson believes there could be another round of interest rate cuts this fall as central banks try desperately to get growth rates back up above 1%, and he thinks European markets offer "fundamentally decent value." He is also moving money into consumer, leisure, media, and property stocks in Japan, whose economy may expand by around 2.5% this year and next after a four-year slump.
You don't have to be a fund manager to invest in offshore stocks. Even if a company hasn't issued ADRs, most major brokers will buy and sell shares on foreign bourses. A thoughtful broker will remind you, of course, that any weakening of the dollar against the other country's currency could diminish or wipe out your stock gains. But if the economic-growth argument holds up, venturing abroad will be well worth that risk.
Before it's here, it's on the Bloomberg Terminal.
LEARN MORE