An American Elixir Has True Believers...But Others Find It Hard To Swallow
James Drake
It has the atmosphere of an evangelical meeting. In a downtown Prague assembly hall, a succession of clean-cut, confident men and women mount a podium to tell how their lives were changed by a wonderful discovery. But it's not the good Lord that these people are praising. It's an American diet supplement called Herbalife.
"Friends, I feel born again," one fit-looking, sixtyish ex-miner exhorts the largely blue-collar audience, brandishing "before" and "after" photos to rapturous applause. By skipping two meals a day and taking Herbalife International Inc.'s vitamin pills and "low energy" milk shakes instead, he shed 12 kilos in as many months.
But Herbalife promises more than a reduced waistline. Hosting today's recruitment rally is Prague Sales Distribution Manager Petr Kral, whose tangible rewards include a blow-dried coiffure and chunky gold jewelry. Like the others on stage, Kral says he's a satisfied customer who went on to sell the products door to door. In his first month, he claims, he more than tripled his previous annual salary as a garage mechanic. He concedes that the $120-a-month charge for the basic, "essential" course amounts to almost two weeks' wages for the average Czech. But by becoming distributors themselves, consumers qualify for a hefty discount. And anyone who signs up a newcomer to the sales force takes a commission on that person's profits. "This is a millionaire-making factory," Kral says, beaming. "By the year 2010, most of the world's population will be using and selling Herbalife!"
Czech health professionals aren't impressed by Kral's vision of the millennium. "It's like brainwashing. The message of these meetings is: `You can buy health,"' says Frantisek Krch, a Prague psychiatrist who has been treating several young anorexic women who then went on the Herbalife diet: "These girls are vulnerable, their self-image is so low. Then along comes this group which tells them it's O.K. to starve themselves."
Asked in an interview about such health concerns, Kral agreed that certain Herbalife products were not suitable for certain people. "Of course, you should get medical advice if you're worried about taking our stuff," he said. In the next breath, the tanned sales manager suggests a pick-me-up for the questioner's pregnant wife: the company's guarana tablets. But these contain levels of caffeine that doctors say are unhealthy for expectant mothers.
Herbalife, which hit the Czech Republic four years ago, is now expanding eastward, into Poland and the former Soviet Union. Among those who are hailing today's breathless testimonies are Ukrainian and Russian guest workers who will be returning home soon to ravaged economies and uncertain futures. To construction laborer Arkady Arkashenko from Kiev, the pills and potions must seem like manna from heaven. "If people think their health depends on Herbalife, they'll always find the money," Arkashenko grins slyly. "Like Mr. Kral just said, the body is a temple."
Since the Los Angeles-based company was founded in 1980, Herbalife has been ordered in various places to modify its ingredients and tone down its hype. Some West European authorities have cited improper labeling, unsafe ingredients, and misleading claims. But in the former Soviet bloc, where officials are still lax about regulating the excesses of the free market, "an underdeveloped retail infrastructure or limited employment choices represent very fertile ground for Herbalife," the company's 1995 annual report states.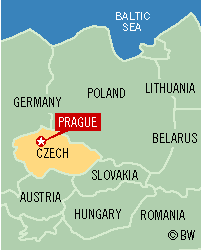 Regulators agree their hands are tied for now. "The Czech version of Herbalife isn't actually poisonous; it contains nothing that isn't present in ordinary food," says a Prague Trade Ministry official, explaining why officials can't prosecute.
The sales structure will likely just implode on its own. "It has happened in every other country they've been," points out consumer-rights advocate Anna Spinkova. "The more sellers they enlist, the more trouble they have finding new customers to buy their goods, the more likely those reps will be lumped with stuff they can't shift."
But yes, there are riches to be made--by the organizers as they take their cut from each course fee and every sale.
Before it's here, it's on the Bloomberg Terminal.
LEARN MORE