Will London Rates Come Falling Down?
Strong consumer spending had been reducing the chances for an interest-rate cut in Britain. But the continued signs of an ailing factory sector have meant that a cut is not out of the question.
Industrial production fell unexpectedly in June, by 1.1%, with manufacturing down 0.3%. Over the past year, total output is up 0.8%--the slowest rate in more than three years. The sluggishness is also reflected in the Confederation of British Industry's manufacturing survey. Executives are upbeat about output increases, but weak export performance is causing pessimism about orders (chart).
Optimism about output suggests that excess inventories finally have been cut. In fact, a large drop in stockpiles of finished goods was a reason for the decline in July's purchasing managers' index to 50.7%, from 51.8% in June.
Consumer demand, meanwhile, is solid, as shown by strong retail reports, a healthy housing market, and rising confidence. Still, the inventory adjustment and the fallout from mad cow disease hurt second-quarter real gross domestic product: It grew by 0.4%, or 1.8% from a year ago. That's the slowest pace in three years, and well below the government's target of 2.5% for 1996.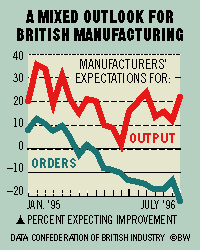 Manufacturing's ills could give Chancellor of the Exchequer Kenneth Clarke an opening to ease up. He cited the industry's problems when he cut the base lending rate to 5.75% on June 6, the third cut this year. Rates were left unchanged at the July 30 meeting between Clarke and Bank of England Governor Eddie George. And George is sure to oppose a rate cut at their upcoming Sept. 4 powwow. George is likely to point to the Aug. 7 BOE inflation report that said rates must increase if underlying inflation, which excludes mortgage interest, is to fall to the government's target of 2.5% from 2.8% now.
For Clarke, though, the window of opportunity is closing. The ruling Conservative Party must call elections by May 1997. That means rates would have to fall soon if voters are to enjoy stronger growth by next spring.
Before it's here, it's on the Bloomberg Terminal.
LEARN MORE