Will Britain Ever Be A Nation Of Stock Keepers?
The equity culture still isn't there--despite Tory dreams of state sell-offs creating a "shareholder democracy"
Julia Flynn
It has been dubbed the Great Train Robbery. Last January, a former British Railways terminal manager, Sandy Anderson, led an $817 million management buyout of one of the railway's train leasing units. Seven months later, Anderson's privatized spin-off agreed to a $1.3 billion takeover. If the deal goes through, the 41-year-old Scotsman could walk away with more than $50 million. The news sparked a political firestorm. Labor Party officials and some taxpayers charge that the Conservative government deliberately underpriced British Rail assets to speed up its sale and are demanding an investigation into the privatization process.
Anderson's windfall is just the latest post-privatization scandal to offend the sensibilities of the British public. And it's hardly what former Prime Minister Margaret Thatcher had in mind in the early 1980s, when she began unloading state-owned industries to the private sector. The Conservatives' dream was to create a "shareholder democracy" that would give ordinary people a stake in big business, thereby boosting savings, investment, and productivity--besides filling the government's coffers.
QUICK PROFITS. But although the Tories have raised nearly $100 billion selling off industries since 1985, popular capitalism hasn't really taken hold in Britain. The number of private shareholders rocketed from around 3 million in 1980 to 11 million in 1990 but has dropped since then to 9.5 million. That's 20% of the adult population, about the same as in America. But in Britain, unlike the U.S., share ownership has remained stubbornly shallow. Seventy percent of British investors own shares in three companies or fewer, whereas the average U.S. investor owns more than four stocks. And while U.S. households hold 65% of their assets in equities, mutual funds, and fixed-income securities, British households keep 60% of their assets in cash.
Many Britons who bought privatization shares early sold them quickly to lock in a profit, then retreated to safer and more familiar investments such as bonds or savings deposits. Dennis Rooke, the former chairman of British Gas PLC who steered the utility to privatization a decade ago, admits that the government's attempt to create a shareholder democracy "clearly has not succeeded." For countries in continental Europe launching their own jumbo privatizations and looking to Britain as an example, the precedent is mixed at best.
"A LOT OF WORK." The problem is that nurturing an equity culture such as America's takes more than just a one-time marketing campaign. For one thing, the average Briton still believes that buying and selling shares is complicated and costly, according to a recent survey of 3,389 adults. And despite the proliferation of government-sponsored "share shops," Britain's infrastructure of retail brokers is far less developed than in the U.S. Individuals are also left out of the information loop. Companies regularly brief institutions while ignoring small investors. While Britain's first wave of privatizations performed well, with annualized performances hitting up to 56.7% in the case of the Forth Ports Authority, some recent issues have faltered. Investors in British Energy, the nuclear power group that went public in mid-July, lost more than $77.5 million in the company's first day of trading.
Nor is the City of London getting any friendlier toward the little guy. Just this January, bowing to complaints from issuing companies that marketing to individuals was too expensive, the London Stock Exchange lifted a rule requiring issuers of initial public offerings to tender at least some shares to individuals. Now they can place shares solely with institutions. That sparked an outcry, leading to the formation of an independent committee headed by Mark Weinberg, chairman of J. Rothschild Assurance, to examine private-share ownership. The committee issued its report in July. One finding: Small investors still consider the exchange a confusing and forbidding institution. LSE Chairman John Kemp-Welch, responding to the report, says the exchange will form a committee to study ways of serving small investors better.
In addition, while British households save nearly twice as much as Americans, far less of their net wealth is invested in stocks. One reason is a capital-gains tax of up to 40%, compared with a 28% rate in the U.S. that could be halved. Another is the relative newness of tax-favored retirement savings plans. In the U.S., company pensions have largely given way to so-called 401(k) plans, to which employees contribute a percentage of their pay. The funds are privately managed, and participants are bombarded with newsletters explaining the long-term benefits of a diversified stock portfolio. In Britain, such retirement plans are relatively new.
Another problem is that British investment houses have shied away from the noninstitutional business, because it represents "a lot of work for not a huge amount of reward," says John M. Cobb, chairman of the Association of Private Client Investment Managers & Stock Brokers. And while several discount brokerage houses have started up, it hasn't been easy. In early 1987, for example, David L. Jones started ShareLink, which became Britain's largest discount phone brokerage. Yet with mounting competition and depressed trading volume, ShareLink lost $775,000 in the first half of 1995.
To save itself, ShareLink "needed to be part of a bigger, much better funded group," says Jones. Enter Charles Schwab (U.K.) PLC. Jones sold out to the U.S. discount brokerage for $62 million last summer. Schwab's plan is to use Britain as a springboard to the Continent, where a big wave of new privatizations is about to break. Schwab hopes the sell-offs will bring throngs of new private shareholders to Europe's bourses. In coming weeks, ShareLink will open a pilot storefront in Birmingham. If it flies, the group hopes to expand across Europe.
But ShareLink and Schwab could be taking a flier. Equity culture is even more foreign to the Continent than to Britain. In Germany, for example, only 5.4% of Germans own stock. With shares of most recently privatized Continental companies such as Banque National de Paris and Renault trailing market averages, governments face an uphill battle to flog new issues. Looming ahead are Germany's $10 billion offering of Deutsche Telekom in November and Italy's $16 billion sell-off, announced on Aug 6, of telecom group STET next spring.
INSURANCE. So, many of Britain's neighbors are adopting its methods for recruiting small investors. German Chancellor Helmut Kohl, who aims to transform Deutsche Telekom shares into a "people's stock," has hired Dewe Rogerson Ltd., the London-based public-relations group that worked on most of Britain's privatizations, to design DT's ad campaign. In Italy, the Treasury has launched a campaign to win over individual shareholders that's similar to Britain's privatization push in the late 1980s, helping people buy shares on installment. The government is even promising to "insure" retail investors against any collapse in the share price in the first year of trading. Spain's government is offering discounts to small shareholders and bonuses for holding the shares for a year or more, an incentive patterned on the British model.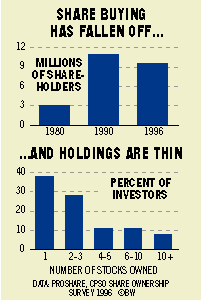 But Britain's experience shows that short-term sales techniques aren't the same as a concentrated education effort, backed up with a brokerage network willing to spend money wooing small investors, that will turn passbook savers into stock investors. Nor, it seems, has Britain learned that lesson. Next year, six of the major building societies--the British equivalent of U.S. savings and loan associations--will be converted into banks, and account-holders will get shares in them. That will create an estimated 4 million to 6 million new shareholders overnight. If those new investors never buy another stock, however, the country will be no closer to a true "shareholder democracy" than before.
Before it's here, it's on the Bloomberg Terminal.
LEARN MORE