The White House Vs. The Greenhouse
Reversing course, the Clintonites get behind emission controls
Naomi Freundlich
Last month's call by the U.S. for mandatory limits on pollutants that can lead to global warming has sent shock waves through the American energy industry. As the world's largest producer of greenhouse gases, the U.S. had long opposed mandatory reductions. On July 17, however, Timothy E. Wirth, the Under Secretary of State for Global Affairs, surprised industry observers and environmentalistswitha dramatic reversal at a U.N. climate change meeting in Geneva.
The administration's embrace of mandatory limits is seen as more than political posturing: It has set the stage for more serious negotiations. In 1992 at the Earth Summit in Rio de Janeiro, negotiators called only for voluntary reductions in emissions to 1990 levels by 2000. That effort to reduce greenhouse gas emissions has fallen far short.
In January, the U.N.'s Intergovernmental Panel on Climate Change (IPCC) said the "balance of evidence" suggests there is a "discernible human influence on global climate." It was the first time that the panel, made up of scientists from around the world, had said that the effects of greenhouse gas emissions were being felt.
FLOODS, STORMS. The IPCC predicted that the atmosphere would warm 2 degrees Celsius by 2100. That doesn't sound like much, but it could lead to a variety of unpredictable climate changes that could spawn more floods and storms and disrupt agriculture around the world.
Researchers continue to debate the consequences of global warming, but there is no debate over the rise in atmospheric carbon dioxide--one of the most important greenhouse gases. Carbon dioxide levels have climbed sharply in recent years (chart). By some estimates, global carbon dioxide emissions--mainly produced by the burning of coal and oil--may increase 60% in the next two decades, with most of the growth in China and the developing world.
Unsurprisingly, the energy industry is fighting mad. John Shlaes--the executive director of the Global Climate Coalition, which represents coal and oil interests--calls mandatory emission caps "an energy-rationing program for Americans." Shlaes had expected the Administration to stop short of mandatory limits.
Rio's nonbinding agreement has already had an impact--thanks mainly to efforts by the utility industry. According to Michael Oppenheimer, senior scientist with the Environmental Defense Fund, U.S. emissions would have grown 13% from 1992 to 2000 in the absence of the Rio accord. Instead, says Oppenheimer, they will probably grow by 7%. He sees that as a sign that steeper reductions are possible. "Even in a period of moderate economic growth, without a binding agreement, we reduced the expected growth of greenhouse gases by one-half," he says. Mandatory limits would accelerate that decline, he says.
Companies that invest in conservation and alternative energy support Wirth's proposal--as long as it offers flexibility. For example, businesses advocate swaps that would allow them to build a clean-coal plant in China, say, and earn emissions credits back home. Says Michael L. Marvin, executive director of the Business Council for Sustainable Energy, a group that represents energy-efficient companies: "I think we want to make sure that maintaining a healthy economy is as important as any other goal" in the negotiations.
SQUISHY PREDICTIONS. Although the U.S. called for mandatory limits, it did not say where those limits should be set. U.S. negotiators said only that they support a specific, attainable target by 2010 or 2020, according to Eileen B. Claussen, the Assistant Secretary of State for Oceans, Environment, and Science. A final agreement is due by December, 1997.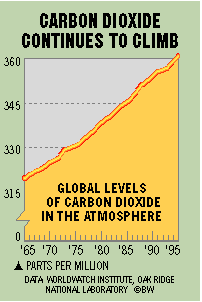 One problem is that no one knows exactly what the economic impact of mandatory limits will be. Computer models intended to project possible consequences make notoriously squishy predictions. "Any answer can be arrived at through small manipulations of initial assumptions," says Hadi Dowlatabadi, a global change expert at Carnegie Mellon University.
Despite the economic uncertainty, there are already encouraging signs of a consensus. At the end of the Geneva meeting, all but 14 countries had tentatively endorsed the U.S. proposal. Holdouts included the 11 OPEC nations and Russia. Many clearly see the U.S. proposal as an important step in a long negotiating process.
Before it's here, it's on the Bloomberg Terminal.
LEARN MORE