The Loneliness Of The Hyundai Manager
by
The 25 men gathered in room 403 of Cornell University's Bailey Hall last May hardly looked like typical student protesters. Their slightly graying hair was close-cropped, and their request, made in restrained tones, had nothing to do with foreign wars or curriculum overhauls. It was personal. The men were asking permission to see their families, for the first time in three months.
The students had left their homes in Seoul and Ulsan, South Korea, in February and arrived at tiny Tompkins County Airport after an 18-hour trip. They are Hyundai Motor Co. managers in their 30s and 40s, identified by the company as rising stars, and they will help manage the next phase of Hyundai's furious international expansion. The goal: become one of the world's top 10 carmakers by 2000. Ithaca is their boot camp.
Hyundai, which is paying $2 million for the program, is excusing the managers from their jobs back in Korea for nearly a year--far longer than most U.S. executives spend attending educational seminars. And Hyundai wanted its money's worth. It chose a school with a top-notch manufacturing faculty and one with extensive connections throughout Asia. But it also picked Cornell's Johnson Graduate School of Management because the lush hills of upstate New York are far away from the distractions and vices of big-city life. The university initially designed a week-long break in the middle of the program, but the auto maker nixed it. No vacation for these students.
Undeterred, the Hyundai 25 lobbied executives who had come from Korea for a reception kicking off the school year. The students wanted their families to visit. "We need time to refresh," said Yang-Su Kim, 39, an engineer. The executives remained noncommittal. The students followed up with faxes back to Seoul. The company didn't answer. In Korean culture, the students told their Cornell teachers, that's the polite way of saying no.
MARKETING AND GOLF. So they settled into their school routine. They woke up in gray, drab grad-student apartments near the Robert Trent Jones golf course and made coffee. They drove to class in the Hyundais they had picked up at a nearby dealer and studied accounting and marketing, just like MBA candidates. An occasional meal at Four Seasons, the surprisingly good little Korean restaurant in Collegetown, broke up the week. At night the students struggled with economics textbooks that are hard enough to get through when English is your first language. They relaxed by turning the tube to channel 38--CNN--or by finding a ballgame. When they could justify taking off more than an hour from studying, they went to the golf course, which charges slightly more for a year's worth of golf than Korean country clubs do for 18 holes.
In short, the Hyundai 25 relaxed when they could and focused their thoughts on why they were here--to learn new disciplines and the less rigid American management style. They were willing to leave home, they said, because the program is part of a larger mission for their company and their country. They talk about it in a way that's rarely heard at American firms. "The development of Hyundai will be the development of Korea," says In-Seo Kim, 46.
The inaugural eight-month program neatly embodies Korea's ambitions. In the more than four decades since the end of the Korean War, South Korea's economy has grown at an astonishing pace. Now it faces the challenge of rising to the level of a true industrial powerhouse--or flailing in no-man's-land while low-wage Southeast Asian nations lure jobs away.
The giant business groups, which are known as chaebol and include Hyundai, are critical to that push. Hyundai Motor's vow to become one of the world's 10 largest auto makers--up from 13th place now--means it will have to manufacture almost 50% more cars just four years from now, and it must sell them far beyond Korea's mature market.
So Hyundai, like other chaebol, is ceding some of the control long held by family members to professional managers with global resumes. The Cornell program is designed to produce them, and the students lucky enough to attend are forcing themselves to adapt.
They adjusted to being away from their wives by rediscovering the art of writing love letters, confessing thoughts--even a simple "I love you"--they had barely spoken of since courtship. Occasional late-night cable TV replays of Korean news gave them all some connection to home. To listen to the students tell it, however, these all seemed to pale next to the biggest challenge: setting foot in a kitchen.
WHO'S COOKING? Ask them about cooking, and they are very clear: Korean men do not cook. "There is a custom in Korea, in all of Asia," says Yang-Su Kim, whose smooth face and bushy hair make him look much younger than 39. "The kitchen is the woman's. The male should not invade." The problem is that living by himself in a two-story garden apartment in the middle of Ithaca, N.Y., the male doesn't have much choice. He invades, or he goes hungry.
"We thought the male worked very hard, and the woman took the easy job," Kim says. "Now we understand. Cooking is not easy." The students have warmed to it, though. They make regular trips to Tops, the local supermarket with a large section of Korean food. They are even having a few delusions about their new skill. Grinning, knowing that he's about to commit heresy, Young Jin Lee says: "I worry my wife's food won't be as good when I get home."
That's not likely, but it's evidence of how hard the men work to find the positive side of their isolation. They admit that too many Korean children see their father as the man who goes to work, then comes home to read the newspaper. The deep gap between the older generation, who were children of the war, and today's teens, who are children of Coca-Cola, hasn't helped. "We were taught by Confucianism," Kim says matter-of-factly over a bottle of Snapple. "The younger generation is taught by the American movie."
PRESSURE. So, in addition to love letters to their wives, many are starting serious trans-Pacific conversations with their kids, mostly by mail. Academic life gives them a chance to step back and consider life's big things. "We are physically far and psychologically close," says Kim, whose solid English has turned him into something of a philosopher and spokesman.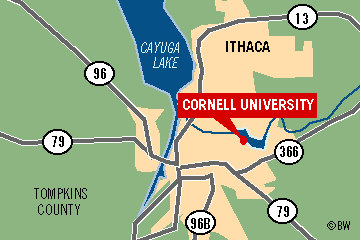 Of course, those letters made them want to see their families even more, and that's what brought them to room 403 last spring. They would make their case once more to C.W. Lee, a Hyundai executive visiting from Seoul. By now, the students knew Hyundai wouldn't give in on the issue of family get-togethers. So they hit instead on the idea of vacations as vital to rounding out their education. "We can study and learn about America not only in a classroom," said Joo Soo Ahn, considered the students' official leader, "but also outside of class." Give them a week off, went the argument, and they would travel and learn about the people to whom they're trying to sell cars.
Lee agreed to speak to his superiors, and a month later phoned Ahn with an unexpected O.K. The next morning, as Ahn delivered the news, the students erupted in applause. Two months later, while some brought their families to Ithaca and a handful of the most homesick returned to Korea, the rest were hitting the road for a tour of the U.S. In the name of the Grand Canyon, Las Vegas, and Harvard University--America's worthiest tourist destinations in their eyes--the student protesters had won a well-deserved break.
Before it's here, it's on the Bloomberg Terminal.
LEARN MORE