Rockwell's Trickiest Launch Yet
CEO Beall hopes Wall Street will laud its top-down makeover
Eric Schine
Donald R. Beall is a deliberative man. Through a decade of upheaval in the defense business caused by government spending cuts, Rockwell International Corp.'s chief held tight, neither selling nor adding much to his company's defense and aerospace businesses. Finally, last fall, Beall began shopping the units around. On Aug. 1, he made his big move, selling what long had been the heart and soul of the company to Boeing Co. in a stock and debt deal worth $3.2 billion.
The transaction may mark the start of a lot more action at Rockwell as Beall tries to remake it into an electronics powerhouse. Key to the strategy: a big acquisition or two. The Boeing deal leaves Rockwell cash rich, with some $4 billion in what Beall calls financial "firepower" that could be used for such deals.
Along the way, the CEO hopes Wall Street will take a new look at Rockwell. In the fiscal year ending Sept. 30, Rockwell says operating earnings of the slimmed-down company will hit $1.2 billion on revenues of $10.4 billion. "Our performance has been terrific," says Beall. "This company should be revalued." His goal: to garner a price-earnings multiple comparable to the ones paid for admired companies such as AlliedSignal, General Electric, and Hewlett-Packard (chart). "Don has a very clear vision of where he is taking Rockwell," says Boeing CEO Philip M. Condit. "When you take a company in a fundamentally new direction, that's not an easy thing."
Indeed, the question now is whether Beall, with his steady nature and conglomerateur background, can remake Rockwell into a growth company. Beall, 57, is a hard driver from humble beginnings. As a youth, he made money by pumping gas along the commercial-fishing wharf in Crescent City, Calif., in the afternoons and loading lumber barges in the evening. He first joined Rockwell at 28 and has spent most of his career there. He was named president and elected to the board at 39 and has been CEO for 10 years. Wall Street credits him with building up key businesses such as industrial automation. But he also has been criticized for failing to restructure the company fast enough. To this day, some analysts gripe that he might have gotten a better price for the defense units if he had sold earlier.
Now that he's moving, Beall's main focus will be continuing to expand Rockwell's $4 billion industrial-automation business. The company became the biggest player in the U.S. market after its acquisition of Reliance Electric Co. last year for $1.6 billion. Since then, it has been snatching up market share in industries ranging from autos to pharmaceuticals. Beall hints that the next large deal is likely to be in Asia or in Europe, where in 1993 he acquired Sprecher+Schuh, a Swiss maker of automation gear, for $105 million.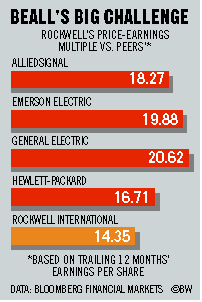 GOOD PROSPECTS. Rockwell's other hot business is its fast-growing $1 billion semiconductor unit. For the past several years, the chip business has surged: It supplies 80% of the chips that go into fax machines and 65% of those for modems for personal computers. And it has good prospects for growth: Rockwell also makes the guts for digital cordless phones, potentially a big consumer-electronics product. On July 1, it moved into the exploding multimedia-graphics market when it acquired Brooktree Corp. for $275 million. Despite a slowdown in other areas of the chip market, Beall says Rockwell's sales will nearly double this year. Still, he is delaying for about a year construction of a new Colorado Springs (Colo.) chip plant in which Rockwell is investing $1.2 billion.
Meanwhile, analysts and some investors want Beall to do more restructuring. He already shed the company's printing-press business in April. Now, pressure is mounting to sell off Rockwell's poorly performing automotive unit, which has been marred by warranty problems and strategic missteps such as its ill-timed recent expansion in Brazil. Messy work, remaking a conglomerate.
Before it's here, it's on the Bloomberg Terminal.
LEARN MORE