Oil Money Seems To Cure Most Ills...But The Lack Of U.S. Aid Still Stings
Thomas Goltz
The governor of the National Bank of Azerbaijan was discussing the move to a market economy. Amid references to falling industrial output and the new law allowing land ownership, he noted the small matter of $10 million in international aid that had vanished. His one-man audience interrupted. "What do you mean, you don't know where the money went?" growled Heydar A. Aliyev, the 75-year-old President of the oil-rich republic. "I demand that a commission of investigation be established and that we get to the bottom of this at once!" The bank chief, visibly quaking, pledged to obey.
Although carried on live TV, the two-day review of ministerial activities had been carefully scripted, right down to the firings of various ministers that topped it off. "It was about as spontaneous as a Mexican soap opera," said one senior Azeri financial official. "In fact, we're wallowing in corruption from top to bottom."
Such critiques of post-Soviet Azerbaijan are accurate. Elections are rigged, according to the international monitors of November's parliamentary voting. Opposition leaders, including former Foreign Minister Towfig Gasimov, have been tossed into psychiatric hospitals. Nothing gets done without the backing of Aliyev's cronies.
But there's no doubt Azerbaijan is being transformed. Over 30 years, oil profits may reach $200 billion, and it is estimated that every dollar invested in oil brings in four more in peripheral investment such as supermarkets and hotels. Elected in 1993, Aliyev has given the country its first taste of Caspian oil wealth, and Azeris like it.
Along Baku's Oilman's Boulevard, shops, cafes, and bars are springing up. Most, like the Rajin' Cajun Bistro and the Sine Klub, cater to foreigners and locals linked to the infant oil industry. Mercedes-Benz has opened up a dealership, as have various Japanese and Korean carmakers. Lufthansa and British Airways now fly direct to Baku. Appalling Soviet-era hotels have been upstaged by a Hyatt Regency. Luxury apartment buildings are going up in a dozen locations. "Baku isn't booming, but it's about to," says a senior foreign diplomat. "The funny thing is that no oil has yet flowed."
Indeed. Despite the deal signed in 1994 by Azerbaijan and a consortium led by British Petroleum PLC and Amoco Corp., questions remain about how the oil will reach world markets. At present, the so-called early oil, due to flow in late 1997 or early 1998, is to be shipped to the Black Sea terminal of Novorossiysk or, via a Georgia pipeline, to the port of Supsa. But neither option can handle the flow of "real oil" expected in a decade or so. Building a pipeline to the south is verboten as long as Washington views Iran as a pariah state. Pumping north to Black Sea ports has been nixed by Ankara because it doesn't want fleets of supertankers negotiating the Bosporus. Many think the best route would be west through Armenia, and from there to Turkish Mediterranean terminals. But as long as Armenia occupies Azeri territory seized during the 1988-94 war in Mountainous Karabakh, this option won't work, either.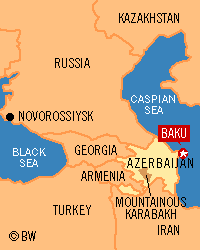 Ask an American what he thinks of "907," and he'll draw a blank. Ask an Azeri, and he'll breathe fire. The reason is a little-known rider, No.907, to the Freedom Support Act passed by the U.S. Congress in 1992. The legislation earmarked tens of millions of dollars to assist states that emerged from the Soviet Union. But while Peace Corps volunteers headed for Turkmenistan and constitutional experts to Georgia, Armenian lobbyists on Capitol Hill made sure no aid would be sent to Baku as long as Azerbaijan continued its blockade against Armenia and pursued the war in Karabakh. A cease-fire in 1994, which left some 20% of Azerbaijan under Armenian occupation, hasn't yet brought the lifting of 907.
"Seen from Baku's perspective," says one senior Western diplomat, "the conditions for `normalizing' relations with the U.S. are tantamount to being forced to trade with the enemy." Although private aid from the U.S. has arrived, until 907 is rescinded, Azerbaijan remains off the radar screens of official U.S. institutions designed to promote peace and prosperity--which was the purpose of the Freedom Support Act in the first place.
Before it's here, it's on the Bloomberg Terminal.
LEARN MORE