New Hands On Quarterdeck?
By
The floor seems to be collapsing under Quarterdeck (QDEK), a pioneer developer of software for personal computers and the Internet. The stock has been in a downdraft since December, skidding from 39 to 6 3/4 on Aug. 6. Analysts have turned wary about the company since it reported disappointing third-quarter results: a loss of 68 cents a share, vs. a profit of 12 cents a year ago. And revenues dropped to $16 million from $28.1 million.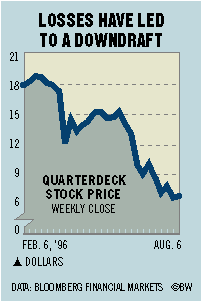 But several California investment managers have been buying: They believe the company, at its current price, has attracted an aggressive suitor, McAfee Associates (MCAF), a maker of antivirus and networking software. McAfee tried to acquire Cheyenne Software in April for $1 billion. It withdrew its bid for Cheyenne in May after Cheyenne refused to negotiate. Now, McAfee is said to be poised to go after Quarterdeck, whose products for PC and Internet software "fit quite perfectly the direction that McAfee wants to go," says one analyst, who puts the buyout value at 17 a share.
Quarterdeck has been increasing its bet on its Internet-related products, which accounted for more than half of its revenues in the third quarter. The company specializes in providing utility solutions to the Windows market and offers a line of powerful next-generation Internet tools. McAfee Chief Financial Officer Terry Duryea says the company is "considering various types of corporate relationships." But he declined comment on the Quarterdeck rumors. Quarterdeck didn't return calls.