Is Berkley Being Wooed?
by
Even a penny or two in earnings disappointment can send a stock diving. So W.R. Berkley (BKLY) was expected to tumble when the propertyand-casualty insurer reported second-quarter operating earnings of 90 cents a share--less than the Street's consensus call of 92 cents. They didn't: Berkley instead jumped from 41 to 44. Why? Whispers of a takeover.
The insurance industry has seen a string of buyouts this year. The most recent was the agreement by General Electric Capital to purchase First Colony Corp. for $1.8 billion in cash.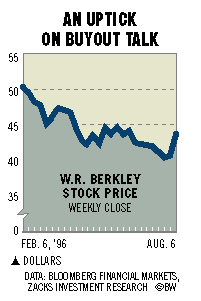 "Berkley is being wooed by several larger companies, including giant insurer American International Group (AIG)," says one New York investment manager, who is buying Berkley shares. He notes that Berkley CEO William Berkley and AIG CEO M.R. Greenberg "are close friends and have been talking off and on about a deal." Three years ago, he says, AIG was rumored to have targeted Berkley as a possibility. CEO Berkley says that if an offer were made for Berkley, he would "have to consider it because shareholders own the company, and our responsibility is to do what's best for them." But he says AIG hasn't approached him. And an AIG spokesman says there was no truth to the takeover rumor. The money manager who focuses on buyout candidates insists, however, that AIG is very interested in Berkely. He says CEO Berkley recently expressed frustration over the stock's lackluster behavior.
"We believe Berkley will now respond favorably to a bid of at least 60 a share," says the money manager. Management owns some 15% of the stock. The stock hasn't been much of a performer this year, skidding to 40 in late July, down from more than 50 in early February.
Analyst David Seifer of Donaldson, Lufkin & Jenrette Securities, who is bullish on the company, has a price target of 50, based on an 11.7 multiple on his 1997 estimate of $4.25 a share and a 1.45 multiple on the book value of 35.
Before it's here, it's on the Bloomberg Terminal.
LEARN MORE