Ga As Guzzlers On The Info Highway?
Demand for superfast gallium arsenide chips is soaring
Larry Armstrong
A handful of chipmakers are striking it rich by giving many new electronics products the "gas." That's the chip industry's nickname for gallium arsenide (chemical notation: GaAs), a semiconductor material inherently much faster than silicon.
Long considered a technology in search of a home, gallium arsenide always seemed to just miss out. At first, "gas" found eager customers among military and aerospace companies, which were willing to pay double--or even much more--to bypass silicon's speed limits in microwave communications and radars. Then the cold war ended. Then, supercomputer companies figured that GaAs chips could juice up their next-generation computers. But Intel Corp. trimmed the prices of silicon microprocessors so much that it was cheaper to boost speed with multiple silicon chips instead.
Finally, GaAs is finding its niche--in civilian communications. As a result, the gallium-arsenide business is bucking the slowdown in the semiconductor industry. No signs of a slump here. The top three U.S. producers--Anadigics, TriQuint, and Vitesse--have posted recent quarterly sales increases of 27% to 57% over the same periods last year. Crows Joseph I. Martin, a vice-president at TriQuint Semiconductor Inc. in Beaverton, Ore.: "The phoenix is rising again."
Gallium arsenide's resurgence stems from an ever-expanding profusion of applications. For example, L.M. Ericsson's latest cellular phones have gallium arsenide chips to boost performance. Scientific-Atlanta Inc., a leading producer of cable-TV gear, recently unveiled equipment that harnesses GaAs to add 50 channels of new capacity. And direct-broadcast satellite receivers need the extra speed to decode digital TV signals.
Gallium arsenide's speed might even be the key to digital TV that doesn't give headaches to people like David M. Fellows, a senior vice-president at Continental Cablevision Inc. He has a rare "golden eye" that makes him ultrasensitive to the defects in digital-video broadcasts. "If it's a good picture, I just get a headache," he says. "If it's bad, it makes me sick."
PRESSURE. Demand for GaAs is projected to soar still higher as telecom companies launch new wireless services. Some analysts even worry about short-term chip shortages. "The market for GaAs, beginning next year, should start growing at 50% to 60% a year," says Drew D. Peck, technology analyst at brokerage Cowen & Co. That could put pressure on chipmaking capacity.
GaAs chipmakers are not about to let this opportunity slip through their fingers. TriQuint broke ground for a new chip factory in Hillsboro, Ore., on July 1. A few days later, Vitesse Semiconductor Corp., based in Camarillo, Calif., announced it will use the proceeds of a recent public offering to build a $75 million GaAs facility. And at the end of July, Anadigics Inc. in Warren, N.J., said it would spend $35 million to double its GaAs capacity.
Only $75 million or less for a new chipmaking factory? Yes, because gallium arsenide plants are much smaller than the billion-dollar behemoths that crank out silicon chips. Sales of GaAs chips also pale in comparison. Last year, semiconductor sales climbed to $155 billion, the industry says, but GaAs sales on the open market were less than one-half of 1% of that: $590 million. Most mainstream chipmakers can't be bothered with such a pip-squeak, although gallium arsenide demand this year should jump 24%, to $730 million worldwide. Tack on internal production by such electronics giants as Motorola Inc. and Fujitsu Ltd., and this year's GaAs market could top $1 billion for the first time.
The advantage that GaAs has always enjoyed is speed: Electrons zip through its silver-gray crystal at least five times faster than they move through silicon. Until recently, that speed came at a high price. The wafers on which GaAs chips are printed were so tricky to produce they once cost more than 10 times as much as silicon. And in chip plants, the wafers were difficult to process, driving per-chip costs even higher. Recently, prices have been falling as both wafer suppliers and chip producers perfect manufacturing techniques. Many GaAs chips still carry premiums of 30% or more. But when new products are designed from the very outset with an eye to exploiting GaAs features, says Anadigics President Ronald Rosenzweig, "the final solution can be even cheaper than silicon."
Whatever the price, GaAs makers are finding customers who are willing--or compelled--to pay the piper. To handle the surge in traffic in wireless phones, cell-phone frequencies are being jacked up, from 900 megahertz to 1.9 gigahertz in tomorrow's so-called personal communication services (PCS). At those frequencies, GaAs is essentially the only choice. Already, all new cell phones sold in the U.S. by Ericsson, the third-largest supplier after Motorola and Nokia, use Anadigics chips, says Nils Rydbeck, vice-president of Ericsson North America. "It started a year ago, and we're now using GaAs on a large scale overseas as well."
LONGER LIFE. Higher speed isn't the only reason. Gallium arsenide also has a higher signal-to-noise ratio. That means cell phones can wander farther from their base stations. And GaAs chips con sume far less power, so wireless models can either get by with smaller batteries or offer longer battery life.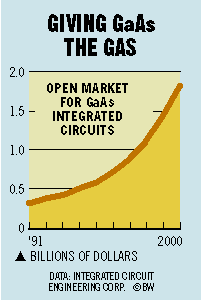 Then comes the wired telecom business. As the use of phone lines has exploded with fax transmissions, modem data, and local-area-network traffic, phone companies are having a tough time keeping up. "If we can help them move 16 times the data down the same fiber-optic cable, GaAs makes economic sense," says Vitesse President Louis R. Tomasetta. "Their only alternative is burying more cable."
Cable-TV systems will come under the gun when cable modems turn the connection to the TV into a lane of the Information Highway. Videoconferencing will put still more pressure on phone lines and cables. Utility companies are starting to transmit meter readings from homes to central receivers. And by decade's end, GaAs will help keep auto traffic flowing, thanks to collision-avoidance radars in cars. All in all, it looks like high-tech products will be "cooking with GaAs" for years to come.
Before it's here, it's on the Bloomberg Terminal.
LEARN MORE