Why Singapore Air Wants All Those Jets
Squeezed now, it's banking on vigorous growth in Asia
By
Until recently, Singapore Airlines Ltd. flight attendants who became pregnant were prohibited from donning the Paris-designed, body-hugging batik sarongs that have made them into international symbols. But now the airline is so desperate for its highly marketed Singapore Girls that for the first time it rehired two dozen flight attendants who had quit to have children. Even when Singapore Airlines offers higher pay, a labor crunch created by the island nation's high growth means "you can't get people," says Deputy Chairman and Chief Executive Officer Cheong Choong Kong.
Singapore Airlines' challenges go a lot further than finding enough crew members to serve the fresh-squeezed orange juice and premier cru Bordeaux that have helped it win repeated awards as one of the world's best airlines. Like many companies throughout Asia, Singapore Airlines is scrambling to stay competitive in a labor-intensive business as a booming economy soaks up workers and raises costs. More competition is coming from lower-priced regional rivals such as Malaysian Airlines System, which is expanding its fleet and slashing prices. And a strong Singapore currency is hitting earnings because more than 80% of the airline's revenues are in weakening overseas currencies.
But the odds are that Southeast Asia's premier airline will manage to muscle through this difficult period by gearing up aggressively at the same time that it slashes costs. The airline has embarked on an ambitious expansion plan that should see its fleet of planes soar from 70 to 150 jets by 2004. Last November, it announced a staggering $12.7 billion order for as many as 77 Boeing 777s. "It's got good management and the cleanest balance sheet in the industry," says Chin Y. Lim, an analyst at Morgan Stanley Asia in Singapore. "It's better placed than any other carrier in the region to withstand competition."
How can it possibly find enough flights for all the new jets? The airline figures that much of that new capacity will be soaked up by the 8% to 10% annual growth expected in its Asian routes. "This is going to be where the action is for the next decade," says Cheong. Singapore Airlines' wholly owned Silk Air subsidiary, for example, flies to holiday destinations in Southeast Asia and is expected to break into the black this year because of soaring tourism traffic. Singapore Airlines is also waiting for Indian government approval for a new joint-venture airline with India's Tata group. Analysts say Singapore also would be willing to buy a piece of Garuda Indonesia or another second-tier Asian carrier.
CASH HOARD. The airline believes that growth on routes such as these will lead it through its current profit pressures (chart). Although still among the most profitable carriers in the world, Singapore Airlines' earnings fell 5%, to $622.3 million, on revenues of $4.4 billion in the year ended Mar. 31, because of the stiffer competition and rising costs. Only handsome investment gains and improved results at its subsidiaries allowed the group to post a 12% increase in net profit to $728 million.
But thanks to the Singapore government's 54% stake, Cheong is less worried about quarterly profits than many of his rivals. In fact, he's sitting on nearly $800 million in cash, a hoard that will provide ammunition for future investments, whether in other airlines or in related businesses. Cheong is eager to put the money to work, for the stash has helped depress the company's return on equity, which has been a paltry 10% for the last three years. The airline is also unique for its ability to pay cash for most of its airplanes, and is virtually free of long-term debt. "I'm a bit bothered" by the underleveraged balance sheet, he says. It's the sort of problem most of his debt-laden peers would love to have. In addition, the airline has a safety record that hasn't been blemished by a fatal accident since its founding in 1972.
These strengths should give Cheong enough time to lower the company's cost structure even as it expands. He has already moved data processing operations to Madras, India, in a venture with Tata. Cheong has outsourced many of the airline's accounting activities to Beijing, and he figures most of the routine work now done in Singapore will move to lower-cost countries. Singapore Airlines is also trying to use technology more efficiently, so it can save on labor costs. It has eliminated boarding passes on many flights, for example.
LEASING LAUNCH. As a way of escaping the squeeze on its main business, Singapore Airlines is trying to diversify into related businesses by creating subsidiaries. Part of the record-setting Boeing 777 order is for the company's new leasing subsidiary, which is intended to reduce the company's dependence on sales of its used aircraft. Singapore Airlines has taken minority stakes in a cargo-handling operation at Hong Kong's new airport, a catering venture with Taiwan's Evergreen Group in Taipei, and an engineering facility in China.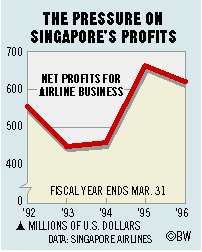 Singapore Airlines is also likely to make headway outside of Asia despite difficulties in obtaining air rights. Cheong hopes to start service to South America within the next two years, but so far he hasn't gotten the needed permission from South Africa to allow him to stop en route. And he would love to start flying from London to New York, but neither British nor American authorities want any more competition in the crowded Atlantic skies. The new Boeing 777s may help Cheong overcome some of those problems because he won't need to obtain as many refueling stops. And he is optimistic that negotiations will ultimately create freer trade in the skies. "The skies are going to be opened," he says. "It's not a question of whether, but when." Singapore Airlines is betting big that he's right.