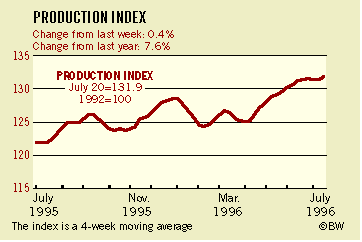 LEADING INDICATORS
      Monday, Aug. 5, 8:30 a.m.EDT -- The Conference Board is expected to report that 
      its index of leading indicators rose 0.2% in June, according to the median 
      projection of economists surveyed by MMS International, one of The McGraw-Hill 
      Companies. The index gained 0.3% in May. The expected June advance would mark 
      the fifth consecutive increase, the first time that has happened in more than 
      two years.
      
      BEIGE BOOK
      Wednesday, Aug. 7, 12 noon EDT -- The Federal Reserve will release the results 
      of its periodic survey of business conditions in each of its 12 districts. The 
      report is prepared for use at the upcoming policy meeting on Aug. 20. The 
      previous Beige Book noted generally moderate economic growth with low 
      inflation, but it also pointed to a quickened pace of activity and tightening 
      labor markets in some regions. Fed officials will be on the watch for any 
      broadening of those conditions.
      
      CONSUMER CREDIT
      Wednesday, Aug. 7, 3 p.m.EDT -- The Federal Reserve is expected to report that 
      consumer installment debt increased by $7.5 billion in June, following a $4.7 
      billion rise in May. Credit growth slowed substantially from February to May, 
      after monthly gains averaging $11.4 billion in 1995. The runup in credit-card 
      debt, which accounted for half of the growth in installment credit from 1993 to 
      1995, is beginning to slow. And excluding revolving credit, consumers actually 
      liquidated debt in both April and May for the first time in more than three 
      years. Given strong income growth, the ratio of debt to income may have peaked.
      
      PRODUCER PRICE INDEX
      Friday, Aug. 9, 8:30 a.m.EDT -- The Labor Dept. is expected to report that 
      producer prices for finished goods in July rose 0.2%, according to the MMS 
      survey, following a 0.2% increase in June. The core index, excluding energy and 
      food, is also projected to rise 0.2%, also the same as in June.