The Old Man And The 240 Z
Nissan reaches into its past to raise its profile in America
Larry Armstrong
For Yutaka Katayama, the recognition has been a long time coming. Katayama, known as "Mr. K" to his colleagues and friends, founded Nissan Motor Corp. USA, the Japanese company's American subsidiary in 1960, and built it into a behemoth that sold nearly a half-million vehicles a year by the time he retired in 1977. On Aug. 4, during the broadcast of the closing ceremonies of the Olympics in Atlanta, Nissan will launch a massive $200 million television advertising campaign aimed at establishing its name, once and for all, as a prominent U.S. brand. It also will introduce a new character to represent the company in the campaign: a grandfatherly Japanese man who embodies the optimism of the original Mr. K.
If you've been watching the Olympics, you've probably met him already. He's the one in the Datsun baseball cap, who, in a series of teaser ads, delivers such simple messages as "Smile" and "Drive Happy." Once the full-scale campaign starts, Dale Ishimoto, the 73-year-old Japanese-American actor who plays Mr. K, will cameo in a series of fanciful ads.
Full of hip, tongue-in-cheek humor, the campaign also aims to recapture the Datsun heritage. Nissan phased out Datsun in the early 1980s because it wanted to be known by a single name worldwide. Insiders now think it botched the shift. "We essentially walked away from all that existed under Datsun," admits Nissan President Robert J. Thomas. "Getting our past back will add to our credibility, our personality."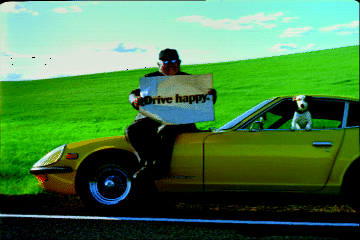 ONE OF THE COOLEST CARS. TWBA Chiat/Day Inc., Nissan's ad agency, hopes to turn Nissan's likeable old man into an icon. The new campaign deliberately combines fiction and fact. The TV character only vaguely reflects the real Mr. K, mainly to harken back to the days when the Datsun 240Z sports car was one of America's coolest cars. But Nissan also may distribute information on the real Mr. K through its dealers.
Katayama, now 87 and living in Tokyo, is a bit of a character himself. He makes and flies kites as a hobby, and he loves America (when he left the U.S., his Christmas card mailing list contained 20,000 names). "I was there 17 years, so Japan was kind of a blank for me," Mr. K says. He is bemused by the new ads. "It was disappointing when I was pulled back to Japan," he says. "But I'm very happy that someone recognized what I did 20 years ago." Someone? Make that hundreds of millions of TV viewers, if Nissan's new ads do the job.