Japan: A Rate Hike? Maybe Next Year
Addressing the Federal Bankers' Assns. on July 24, Bank of Japan Governor Yasuo Matsushita all but killed the notion that the BOJ would soon hike interest rates from their record lows, despite the economy's momentum. "For the time being," he said, "our policy will continue to be aimed at ensuring a basis for the recovery."
But while officials remain cautious, the data argue that Japan's recovery already is on firm ground. The calendar and other distortions that inflated first-quarter growth in real gross domestic product, to an annual rate of 12.7%, will cause second-quarter GDP to contract. June industrial production fell a steep 3.9%, although July output is expected to post a sharp rebound.
Looking ahead, the mix of low interest rates, a weaker yen, and firmer job markets will support the upturns in housing, capital investment, and consumer spending, and ease the drag from the shrinking trade surplus. The June jobless rate held at a record 3.5%, but the ratio of jobs to applicants rose further, and stronger private-sector demand is broadening the recovery to include small businesses.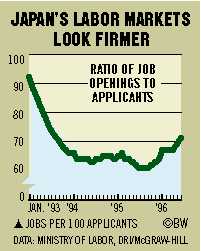 Despite growing cyclical momentum, the BOJ seems more concerned with Japan's structural problems. High joblessness is one, because it partly reflects a mismatch of skills. Also, banks and businesses are still struggling with a mountain of bad debts. And while deflation has ended, inflation risks are scant amid so much slack in both industrial capacity and the labor markets.
Not only is the stimulus from last year's fiscal package about spent, but in 1997, fiscal policy will become outright restrictive, as the scheduled 2% hike in the value-added tax kicks in, and other measures are introduced to rein in the budget deficit, which has swollen to 6% of GDP.
Analysts expect that the BOJ will have to lift the overnight call rate on banks' borrowed funds, now about zero in real terms, by yearend, but any move on the more important discount rate is likely to be on hold until 1997.