Will Viacom Be Boffo Again?
By
What a difference a year makes. Last summer, media giant Viacom (VIA) was basking in the glory of 1994 acquisitions: Paramount Communications and Blockbuster Entertainment. Viacom shares surged to 54 in September--then slumped to 29 on July 19. A week later, they had edged up to 33. Is Viacom in for more spills?
Don't bet on it, insist money managers who have snapped up Viacom stock. "It has come to ridiculously cheap levels, [but] we're confident management is intent in enhancing shareholder value," says one hedge-fund manager. He thinks the company will continue to sell assets and cut debt.
One move they expect it to make: selling its 12 radio stations, worth $800 million to $1 billion. Viacom also owns or operates 12 TV stations. Radio and TV outfits make up 9% of cash flow.
"My guess is that Viacom will take advantage of the premium being paid for radio stations," says Dennis McAlpine, an analyst at Josephthal Lyon & Ross. Viacom's stations are in very profitable markets, he notes. Selling radio stations will bring in cash to reduce Viacom's debt.
Alan Gould, an Oppenheimer analyst, also says Viacom may be thinking of selling radio stations. "But Viacom wouldn't consider any deal unless it was for at least $1 billion," he figures.
"Viacom is the most attractive stock we follow in media and entertainment," says Gould. "It has the highest growth rate among major studios." Based on projected 1996 earnings, he reckons the stock should be selling at 50.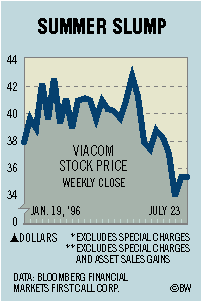 One Viacom asset that investors underestimate, he says, is Blockbuster, which should generate 30% of Viacom's cash flow this year. Gould thinks Blockbuster's success means Viacom will show double-digit earnings in the third quarter. He says it will be a big moneymaker for eight years at least.
Viacom's cable-TV systems are being sold for $2.3 billion in a stock-swap deal to Tele-Communications (TCI). The sale cuts $1.7 billion from Viacom's $11.4 billion debt and reduces the number of shares," says McAlpine. The sale will let shareholders trade Viacom stock for TCI Pacific Communications, a unit TCI formed for the deal. McAlpine says the sale gets Viacom out of cable-TV systems--"a big user of cash." Viacom spokesman Carl Folta wouldn't comment on radio-station rumors.
Before it's here, it's on the Bloomberg Terminal.
LEARN MORE