Warsaw Spiffs Up Its Image...But Tourists Are Hard To Come By
Peggy Simpson
Think Warsaw, and you conjure up a gray, grimy, city of socialist-bloc housing with a Moscow look-alike Palace of Culture dominating the downtown. For the millions of Western tourists flocking to Central Europe, the Polish capital can't compare with Prague, the enchanted city on the Charles River, with its castle on the hill and old-town-square majesty.
Well, think again. Warsaw is a city of surprises, with lovely parks and palaces. And it has come up with a new strategy: selling itself as a cultural cornucopia. Mayor Martin Swiecicki is making a huge to-do about its 400th anniversary as a capital city, wrapping into the yearlong celebration everyone from Luciano Pavarotti to Sting to the Venice Opera. When Yehudi Menuhin celebrated his 80th birthday here in April, conducting the Symphonia Varsovia, Swiecicki hailed it as a tribute to the city's cultural rebirth. He also promotes the street fairs and pop concerts in the Old Town and the remaking of the nearby Nowy Swiat (New World) into a street of smart stores and cafes. "This is making the city come alive," he crows.
FAST-MOVING. True, Warsaw can't get back most of the architectural gems destroyed during nearly two months of combat with the Nazis in 1944 that left 95% of the city in ruins. Starting in 1971, using 18th century paintings by Canaletto as a guide, the Old Town and the Royal Castle were rebuilt, as were many palaces in parks south of the city center. The problem is that a tourist must be something of a detective to find them, because unlike Prague and Budapest, Warsaw lacks even rudimentary information offices. Determined visitors can find glorious but poorly marketed public concerts--in obscure academies, in ornately restored rooms of the Royal Castle, or in the palaces in richly wooded Lazienki Park.
The fast-moving business community is ahead of the curve in selling Warsaw as a conference center. The city's first-rate pianists and violinists are far busier than in the past, playing occasionally in public but extensively for business-sponsored cocktail parties, dinners, and board meetings. It can cost up to $10,000 to rent, say, the 18th century Palace Upon the Water in Lazienki Park, and many thousands more for the food. But the elegance would be hard to replicate in most cities--and there's even a social responsibility angle. "You know why we do it? It's a helluva lot more important to have an event in a castle, where some of your money goes toward the renovation, than to have it in the Marriott," says Karl Arleth, president of Amoco Poland.
"Business is up 50% from a year ago," says Raoul O. Henriquez, who ran the five-star Palace Hotel in Madrid before coming last November to strengthen the management of Cafe Lazienki Krolewskie, the company that caters food and drink for the seven palaces, orangeries, and cafes in the park. Three times in the past two months, all seven were filled on the same evening, with 800 sit-down meals served. And this September, 3,000 Polish cardiologists and medical students will descend for a first-ever parkwide dinner.
Ed Rudzinski, a third-generation Polish-American, took over as general manager of the Warsaw Marriott in March, 1995. He soon realized that, while all Western hotels are chockablock with business guests Sundays through Thursdays, there were no tourists in sight.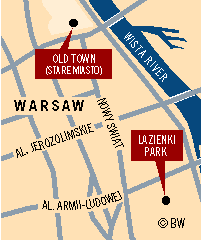 A year into meetings among managers from the Marriott, Bristol, and Mercure hotels with government tourism honchos, the Westerners discovered that an analysis had been done several years ago by consultants Arthur D. Little Inc. It laid out the potential but was candid in its criticisms: little knowledge of Poland abroad, lousy tourist amenities, rude officials.
Fixing this isn't easy. But the government has stepped up promotions in the U.S., Britain, and Italy. And Warsaw development director Jerzy Guz has begun talking with hoteliers about a tax that would be earmarked for tourism activities, including a phone number "where you can find someone to translate tourist info for you instead of wandering around looking like a dummy," says Rudzinski. Now, that would be progress.
Before it's here, it's on the Bloomberg Terminal.
LEARN MORE