Is Corel's Cowpland Crazy Like A Fox Or Just Crazy?
Armed with WordPerfect, Michael Cowpland takes on Microsoft
William Symondsin
Michael C.J. Cowpland is easily Canada's most flamboyant entrepreneur. Last year, the chief executive of Canada's No.1 software company, Corel Corp., riled the sedate Rockcliffe section of Ottawa by building a 20,000-square-foot glass-walled mansion for his second wife, Marilyn. Its 10-car garage houses a Lamborghini and a pair of his-and-her Porsches. Last December, Marilyn caused a stir by posing for the cover of Ottawa Magazine in a skintight spandex Santa suit.
Cowpland's audacious style is matched by his outsize ambition for Corel: to transform it from a niche player to a software powerhouse with $1 billion in sales within three years. To do it, Cowpland is betting he can revive WordPerfect, the once-leading supplier of word-processing programs that Corel bought from Novell Inc. in March.
MASTER PLAN. That, however, puts Corel on a collision course with Microsoft Corp., the $8 billion giant that has 90% of the market for software "suites"--the bundles of office applications that businesses use. "I don't think he picked the right competitor to go up against," says David W. Wright, director of research at Toronto's Marleau, Lemire Securities. Corel stock, meanwhile, is trading at less than half its 52-week high of $19.
Cowpland argues that he saw "a one-shot opportunity" to snag 20 million WordPerfect customers and the price was right. Corel paid $158 million--just $11 million in cash--for businesses Novell had acquired for more than $1 billion in 1994. Of course, there was a reason for the fire-sale price. WordPerfect's annual sales had slid to $407 million, from $629 million in 1993. Its share in suites stood at a paltry 3.6%.
Cowpland figures he can reverse that. "People are ready for an alternative to Microsoft," he declares. In May, he introduced a new suite pairing WordPerfect and Corel programs for Windows 95. Now he's pushing to leapfrog Microsoft with software for the Internet. For example, an office suite due this fall will be written in Sun Microsystem Inc.'s Java language so it can run on PCs as well as on the scaled-down "network computers" being developed by companies such as Oracle Corp.
This isn't the first time Cowpland, 53, has bet his career on long odds. In 1973, the young semiconductor engineer co-founded Mitel, a maker of phone equipment, figuring he could outmaneuver AT&T and Northern Telecom. Sales soared to over $250 million before losses forced the partners to sell out to British Telecommunications PLC.
Using $10 million of his own money, Cowpland quickly launched Corel. CorelDraw, a graphics illustration program, came out in 1989, and Cowpland blew away the competition with a strategy of frequent upgrades, lowball pricing, and extravagant promotion. CorelDraw's success helped propel Corel revenues to $196 million last year.
Now, Corel's graphics business has stalled. Because customers have been slow to upgrade to a Windows 95 version of Draw, sales are expected to fall to $90 million this year from around $150 million in 1995. Cowpland says Draw should rebound in 1997 but concedes that his core market is mature.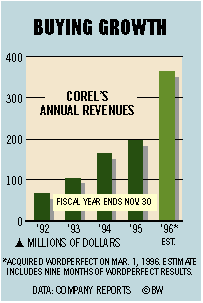 SUITE SUCCESS. So Cowpland is betting on new products including desktop videoconferencing. But most of his chips are on WordPerfect. The ever-competitive executive, who played in the Wimbledon finals of Britain's 1995 National Senior tennis tournament, vows he'll grab 20% of the suite market. He has cut the price of upgrading to the Corel suite to $99, undercutting Microsoft Office by about 50%. Now he's pumping a profit-busting $100 million into marketing.
The strategy is already showing results. In June, retail sales of the suite jumped 400%, to 80,000 units, matching Office sales, according to PC Data. But Corel still trails Microsoft in the key corporate market. Meanwhile, Cowpland is focusing on the Net. "It's much easier to [emerge] as a leader in a brand new field," he says. A little chutzpah doesn't hurt, either.
Before it's here, it's on the Bloomberg Terminal.
LEARN MORE