How Twa Faced The Nightmare
Bad luck at several stages hampered the airline's response
Susan Chandler
It was 2 a.m. London time when Jeffrey H. Erickson, the gruff, low-key engineer who heads Trans World Airlines Inc., got the call every airline executive dreads. Joseph Vilmain, TWA's international vice-president, woke Erickson at a hotel in London, where the CEO had traveled on business. His horrible news: TWA Flight 800 from New York to Paris had crashed off the coast of Long Island. "I can't describe what it was like," says Erickson, who found himself shaking after he hung up.
The ultimate lessons of the TWA crash can't be known until the cause is determined and analyzed. But the tale of TWA's response to the catastrophe, culled from Erickson, other insiders, and outside experts, shows that the carrier, hindered by considerable bad luck and lean management, actually did fairly well in managing the crisis--despite widespread criticism.
The first bit of ill-chance was that Erickson was in London rather than three hours away at the carrier's St. Louis base. The CEO and Mark Abels, a public-relations executive with him in London, scrambled to charter a private plane to fly them to New York. Even so, it was 10 a.m. on July 18, some 13 hours after the crash, before they arrived at TWA's hangar at John F. Kennedy International Airport.
SHORT-STAFFED. By that time, Erickson and Abels knew from updates during the flight from London that it was unlikely anyone on Flight 800 had survived. Erickson, 51, is a veteran airline executive. But none of the carriers he had worked for, which include Reno Air Inc. and Aloha Airgroup Inc., had suffered a major crash on his watch. And by the time he arrived in New York, politicians such as New York Mayor Rudolph W. Giuliani had been on the scene for hours--and were loudly criticizing TWA's slow response.
The problem wasn't just Erickson's delayed arrival. There was also a dearth of other top managers who were available to respond. Two who could have filled the void while Erickson was traveling--Mark J. Coleman, the company's marketing senior vice-president, and CFO Robert A. Peiser--had resigned just a month earlier over a strategy dispute with Erickson. In fact, many TWA managers in St. Louis were attending a going-away party for Coleman when a chorus of beepers went off, cutting short the celebration. With management so spare, Senior Vice-President of Operations Don Monteath had to man the crisis center in St. Louis, leaving a void in New York until Erickson arrived.
Another difficulty: As a smaller airline, TWA has only one "trauma team" of 650 employee volunteers scattered across the country; larger carriers have regional response teams. Johanna O'Flaherty, the human resources executive who heads the team, was vacationing in Santa Barbara, Calif., when she heard the news. American Airlines delayed its last red-eye out of Los Angeles so she could get to New York Thursday morning. But getting the whole team to New York ate up precious hours. Dozens were there by noon on Thursday, July 18, and 100 by that evening. They took over the Ramada Plaza hotel as a center for victims' families and established a command center at the Hilton Hotel near JFK.
AVOIDING ERRORS. Too slow? The National Transportation Safety Board allowed the airline to begin notifying families about 9 a.m. Thursday morning. By evening, all families had been contacted. That's considered reasonably fast by industry standards: It took United Airlines four days to issue a list of passengers who it believed to be dead after a July 19, 1989, crash in Sioux City, Iowa.
Erickson says he thinks TWA's notification "should have gone faster" but praises his team's efforts, especially considering that 60 families had to be tracked down in France. TWA also avoided horrible mistakes by being careful: Some passengers on Flight 800's manifest actually missed the flight, including several who were delayed in Chicago by heavy rain.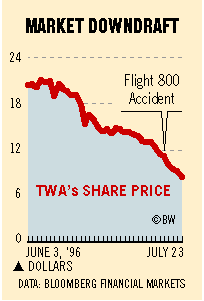 Once the immediate crisis is dealt with, TWA will have to focus again on building its franchise. Erickson, who grew up in Suffolk County near the crash site, saved TWA two years ago by deftly recruiting a new management team, persuading creditors to accept a $500 million write-down of debt, and guiding the company through a prepackaged bankruptcy last August. But if the crash taints TWA's reputation badly, its financial recovery--even its survival--could be in question. PanAm Corp., for instance, never recovered after the December, 1988, terrorist bombing of Flight 103 over Lockerbie, Scotland.
Much will depend on the cause of the crash, experts say. But regardless of that, TWA will survive, Erickson pledges: "PanAm was a distressed carrier. We are not."
Before it's here, it's on the Bloomberg Terminal.
LEARN MORE