Breaking The `Law Of Silence'
Mia Trinephi
Sitting on the shady terrace of a cafe in Ajaccio, a small harbor town on the island of Corsica, Fernande Pintrel, 47, a matronly mother of five and grandmother of two, sips a Coke and sends darting glances at people crowding into the little square or cruising the main street. From time to time, she nods as her friend Marthe Poli, 41, mother of four, makes a point.
Every Monday, Pintrel, Poli, and a dozen other women gather to heal emotional wounds and plan their course of action. They are members of the Manifest for Life, formed in 1995 as a voice against the violence and the deadly spiral of vengeance that is sweeping through Corsica. Since the Corsican National Liberation Front split into factions three years ago in a vicious squabble over leadership, militant Corsican nationalists, who are demanding autonomy after 228 years of direct French rule, have turned their guns on rival gangs and defecting members alike. Most Corsicans want to remain under French rule and deplore the young toughs who strut through the streets with their weapons and the routine extortion. But a centuries-old "law of silence" keeps Corsicans from speaking out against them--until now.
PETITION. The Manifest was formed after 39 murders were committed in 1994, four of them between Christmas and New Year's Eve. One week later, 32 women gathered in Bastia to break the silence that surrounds acts of violence, by asking women to sign a "Manifest for Life," a petition denouncing Corsica's cult of arms.
On the first Monday of each month, Manifest members gather in front of the government building of Ajaccio, capital of Corsica's southern district, and at the courthouse in Bastia, the northern capital. They carry banners and pass petitions protesting the government's failure to stop the violence.
As they plan their upcoming protest, the women also practice a kind of group therapy. The violence rampant on this island of 250,000 has touched all of their lives. Pintrel, for example, says: "I joined the Manifest two months ago because I want to know what happened to my nephew." In a voice that grows louder and shakier, she tells how her nephew, Jean-Nicolas Bacchelli, 31, "was gunned down, not just killed but shot down like a dog."
Bacchelli was a member of A Cuncolta Naziunalista, the legal arm of an outlawed nationalist group. He and a friend were riding a motorcycle in Ajaccio when two gunmen, probably from a rival gang, knocked him to the ground and shot him in the head. It was not random, she says; one gunman told the other to spare Bacchelli's friend because "he's not the one we want." The murder remains unsolved. "I want the murderers to be tried so that my family can mourn in peace," says Pintrel, smoothing her black skirt. Manifest members, she says, "have been a great help for me."
"Part of the population here is disgusted. Law and order should be reinstated in Corsica," says Poli. What are elected officials doing? Pintrel sighs, raising her arms in a gesture of futility. They are inept politicians, interested only in the next election, she says. It is up to the women to rid Corsica of its heritage of destruction.
GROWING SUPPORT. Laughed at, ridiculed in the columns of nationalist publications, dismissed as political pawns undermining the Corsican cause, even intimidated by death threats, the Manifest members nonetheless are winning popular support. Some 2,500 women signed the group's petition the first year. This year, a second petition open to both men and women gathered 5,000 signatures in just one month. "I will soon die. Am I going to leave Corsica as it is?" an 86-year-old man told Pintrel as he signed his name.
People now greet the women with warmth and thank them for giving voice to Corsican conscience. But that conscience disturbs the rebels: The local headquarters of a trade union that called on its members to join the women in a June demonstration was sprayed with bullets. A bomb was found in front of the offices of another pro-Manifest trade union.
Those attacks show how hard it will be to stop the killings in a place where violence has been a way of life for generations. A Corsican confides that the temperament here is an explosive mix of Latin machismo, a rural hunting past, and an isolated island culture. Firearms are common. Youths who once wore weapons to go hunting now wear them to go nightclubbing. Killings take place on the streets, in clubs and cafes, and even outside schools.
The violence escalated in 1993 when nationalist rivals launched a gang-like war for power, leaving behind a trail of bodies. In three years, 100 people have been killed. Most of the killers run free, untouchable because their leaders are negotiating a truce with the Paris government. Many Corsicans believe officials in Paris are dragging their feet, hoping the gangs will simply wipe each other out in their vendetta.
CAR BOMB. Another victim of the violence has been Corsica's tourist industry, which accounts for 20% of the island's gross domestic product. Hotel occupancy and campground use is just 40% of capacity this summer. Last year, tourist spending was off $30 million and will decline even more this year, driving many small businesses into bankruptcy. Nationalists, who want to limit foreign investment or have not been able to extort money from developers, have bombed so many building sites that insurers have stopped underwriting new projects. Construction has almost halted.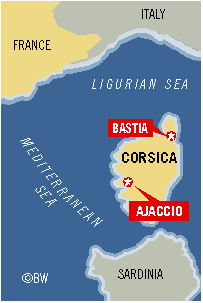 Manifest members say they hope the time will come when violence ends and they can disband. But the outlook is discouraging. On July 1, less than a month after Manifest members led a march of 3,000 through the streets of Ajaccio protesting "the law of arms; for justice, for life," as their banner reads, Corsica was hit with its worst terrorist attack yet. A car bomb exploded in the harbor at Bastia, killing a top leader of A Cuncolta and wounding 15 others.
Never has terrorism struck so blindly here. The Manifest is a scream from Pintrel, Poli, and thousands of other Corsican women to stop the frenzy that has become a way of life on this island.