Bargains On The Bourses?
In the long run, growing economies should buoy stock prices
by
America's stock-market anxiety attack is shaking investors from Toronto to Tokyo. Amid fears of rising U.S. inflation, higher interest rates, and declining corporate profits, major global bourses have fallen 5% from their springtime peaks (chart) in sympathy with the weakening Dow. Among the hardest hit stocks are international technology issues, whose fortunes are closely linked to those of their battered high-tech cousins in the U.S.
In a world of huge financial flows among interconnected markets, such synchronicity is bound to occur. In fact, a sudden plunge of 10% or 15% on Wall Street similar to the collapse of Oct. 19, 1987, "would take all markets in its wake," observes William P. Sterling, chief strategist for New York money manager BEA associates. But if Wall Street quiets down, Sterling and other pros think overseas markets could take a different course.
DOUBLE WHAMMY. They are betting that a shift in economic growth patterns will stave off greater carnage in global equities. In contrast to the U.S., where the economy is widely expected to slow later this year, Europe, Latin America, and Japan are still gaining steam and probably will see a robust expansion in gross domestic product and corporate profits into 1997. Asia and Central Europe will continue to expand at a healthy pace. What's more, with many economies just emerging from recession, inflation isn't even on the horizon.
In America, however, the specter of inflation as the business cycle nears its peak has caused a double whammy. Bond investors have pushed up long-term rates, and the threat of a short-term rate rise by the Federal Reserve Board is hanging over stock investors' heads. So over the next year, says Sterling: "We'll see foreign markets making good gains while the U.S. does nothing."
Hewing to this outlook with their fingers crossed, some money managers view the current sour environment as a rare opportunity to bargain-hunt. That's exactly what Bruce B. Bee is doing. A money manager in Denver who specializes in small-capitalization stocks, Bee is snapping up shares of such overlooked companies as Stratec Holding, a Swiss maker of orthopedic equipment that boasts a stellar 30% return on equity but trades at a price-earnings ratio of 14. "What am I doing now?" he asks rhetorically. "Buying."
Some managers are sifting through high-quality tech stocks swept away in Wall Street's wake. German software producer SAP, for example, has fallen 7% since its wintertime highs, while Benefon, a Finnish maker of cellular telephone gear, has seen the value of its shares erode by more than a third. But Bee and others are also on the prowl for underperforming European companies that appear ripe for slimming down.
One favorite target: financial stocks. Recent announcements of strategic shifts at Deutsche Bank, CS Holding, and Swiss Bank, among others, are sparking speculation that even more industry restructuring is on the way as momentum builds toward the birth of a single European Union currency. One possible winner, notes Montgomery Asset Management Managing Director John D. Boich, is Credit Commercial de France. Despite 15% annual earnings growth, CCF sells at book value--half the valuation of some larger European competitors. Boich feels it could become a takeover target for another French bank eager to get its hands on CCF's successful fund management business.
LOFTY PROSPECTS. Others think richer treasure lies buried in the developing world. "There still are screaming buys on emerging markets, particularly in Latin America," says Richard M. Johnston, a managing director at New York-based Offitbank, who is particularly enthusiastic about prospects for the Brazilian and Peruvian phone companies, Telebras and Telefonica de Peru. Both companies, he notes, boast earnings growth of about 25% a year and, as a bonus, trade in the U.S. through American depositary receipts. Yet each is selling at a price-earnings ratio of 9--half the current p-e for the Dow Jones industrial average.
Gary Greenberg, deputy managing director of Peregrine Asset Management (Hong Kong) Ltd., sees lofty prospects for the British colony's market, where a 4% pullback has left it with an average p-e of only 12. Unworried by next year's scheduled handover of Hong Kong to Beijing, Greenberg maintains the territory will remain the principal conduit for the billions in infrastructure financing that China needs. He adds that Chinese businesses are investing heavily in Hong Kong real estate, and that Beijing's plan to ease credit will boost profits in Hong Kong as well as on the mainland. "Hong Kong is poised to enjoy a business boom," agrees Morgan Stanley & Co. analyst Peter Churchouse, who figures the Hang Seng Index could reach 28,000 in three years. That's nearly triple its current level.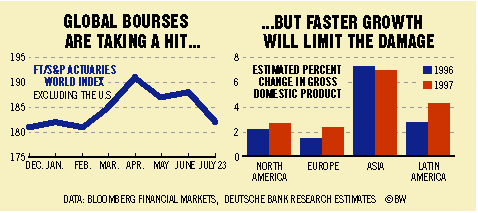 To be sure, Hong Kong and other emerging markets in Latin America and east Asia would probably take a pasting in the short run if the Fed raised interest rates by more than half a percentage point. For that reason, Chase Asset Management's chief investment officer, Mark R. Richardson, recently trimmed his portfolio's large holdings in the two regions. But he is hardly fleeing global equities for the safety of cash. Richardson remains faithful to the idea of a European recovery. He is also moving money into consumer, leisure, media, and property stocks in Japan, whose economy may expand by around 3% this year and next after a four-year slump. In investing, GDP growth counts for a lot. Despite Wall Street's travails, some intrepid pros are still betting that a healthy economy is just the ticket for stock-market gains.
Before it's here, it's on the Bloomberg Terminal.
LEARN MORE