Argentina: Finally Getting Off The Ground
By
Evidence of Argentina's recovery keeps mounting, but not fast enough to please the financial markets--or improve the outlook for deficit cutting.
The strongest news came from the Latin American Economic Research Foundation (FIEL), which reported a 4.1% rise in industrial output in the year ended in the second quarter (chart). A June survey of manufacturers showed increased optimism about demand. In addition, construction--a major source of jobs--is expected to increase 15% in the second half, according to the Argentine Chamber of Builders.
Although real gross domestic product likely fell in the first quarter, the government is still forecasting real GDP growth of 5% for the year. Private economists, though, see a more moderate 2.5%-to-3% pace, after real GDP fell 4.4% in 1995. Disappointed by the economy's slack growth and buffeted by recent volatility in the U.S. markets, the Argentine stock market has moved sideways since May.
Last year's recession did cut Argentina's inflation. Compared with year ago levels, consumer prices have fallen for the past three months, and inflation is expected to finish 1996 at just 2%.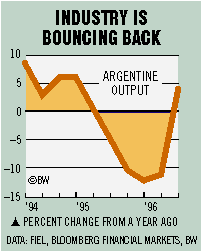 One reason for the recent good news on the economy was a March cut in some value-added taxes. But the government deficit was higher than expected in the first half and will likely overshoot its 1996 target of $2.5 billion. As a result, the government of President Carlos Menem had to admit that Argentina will probably miss the fiscal targets set by the International Monetary Fund.
So on July 12, the government announced measures to increase taxes and cut subsidies, including an $800 million reduction in child subsidies and abolition of some food vouchers. But those moves will hit the struggling consumer sector, whose spending is already expected to grow only 2% this year. Unemployment rose unexpectedly in May, to 17.1%, up from 16.4% last October. Unfortunately, modest growth will do little to lower either unemployment or the deficit.