Why Germany May Shake Off The Shakes
Second-tier stocks look good as the recovery builds
Karen Lowry Miller
Volatility on Wall Street rarely gets shrugged off elsewhere in the world. So on July 15, it was no surprise that most major exchanges in Europe and Asia felt a sympathetic jolt when the Dow Jones industrial average dropped by 160 points. Even in Frankfurt, where prices of German blue-chip stocks have gained 10% since the start of 1996, nervous traders trimmed more than 3% off the DAX index, which tracks big-cap household names such as Bayer, Volkswagen, and Siemens.
But beneath the Sturm und Drang is an interesting mini-trend in the German market. In the past few weeks, the 30-share DAX has been outrun by an upstart index of midcap stocks, the MDAX (chart). Created in January, the MDAX is composed of 70 second-tier companies with a total market capitalization of $102 billion, compared with $349 billion for the DAX. Long neglected as investors stuck to blue chips during Germany's grueling recession, these stocks are enjoying a vogue that could have staying power if the economy remains on the recovery track. "People are getting bullish about smaller, catch-up candidates," says Thomas Holmes, managing director of Schroder Munchmeyer Hengst Research in Frankfurt.
DOMESTIC DEMAND. Why the sudden interest in these homely, workhorse companies? For one thing, investors have already rewarded the corporate titans--many of them exporters--that restructured to cope with low-cost competition, a strong Deutschemark, and recession at home. Now, as evidence of recovery builds, it's the smaller companies' turn to benefit. Since their earnings depend more on domestic demand than on exports, German growth is critical to their stock performance. Moreover, this segment has taken a heavy beating. Extrapolating the MDAX backward, it lagged behind the DAX for 5 1/2 years until this April.
Not all midcaps are bargains. The average price-earnings ratio for the MDAX is 17.8 on estimated 1997 earnings, vs. 14.8 for the DAX, in part because of the midcaps' recent share surge. That's why market mavens recommend sifting through hard-hit industries, such as construction and engineering. Holmes likes ball-bearing maker FAG Kugelfischer Georg Schafer and Durr Beteiligungs, the world's leading manufacturer of auto painting systems. With its solid financial position and technology leadership, he thinks that its shares could move up as much as 20% from their current $340.
MDAX stocks have their risks, however. Experts warn that even if Germany is entering a growth phase, the economy isn't what it used to be. Low-cost competitors have emerged in Eastern Europe and Asia, and some midsize companies have been slow or unable to adapt. In addition, for those that export, a strengthening mark could hammer their competitiveness. And for medium-size companies, relocating production abroad could be prohibitively expensive.
OWNERSHIP FACTOR. Another potential pitfall is that many smaller companies are still controlled by founding families. Only 41% of MDAX shares are in free float, compared with 73% for the DAX. At Merck & Co., the German drug company that listed in October, 74% of pretax profits go to a holding company controlled by the family, scaring off some investors. By contrast, shoemaker Adidas, which listed its shares a month later, has a simple ownership structure. Its shares are up a healthy 68%, compared with 3% for Merck.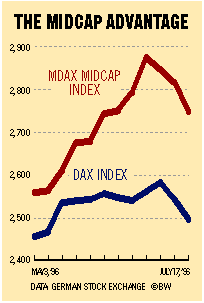 Family ownership is one reason investors pay particular attention to the executive suite. Confidence in management convinced Frank Weiss, a fund manager for Foreign & Colonial Investment Management in London, to purchase medical-equipment maker Fresenius. And dynamic leadership is propelling the darling of last year's new listings, graphite manufacturer SGL Carbon, which in January launched a compensation scheme for top executives that ties pay to company results.
The jury is still out on whether Germany's blue chips could survive a prolonged seesaw--or a 1987-style crash--on Wall Street. Some argue that with no high-tech bubble to burst and no hint of higher interest rates ahead, the German market overall could keep its head of steam. But others say that volatility is inevitable in the next few months as the DAX index composition is revised and investors juggle their portfolios to match the changes. But as long as Germany inches toward recovery, midcap stocks are offering many stockpickers an alternative.
Before it's here, it's on the Bloomberg Terminal.
LEARN MORE